In agriculture, all it takes is missing a rain shower — or receiving one too many — to change the outlook for the entire season.
That makes analyzing crop yield predictions extremely difficult.
"The most important thing is to understand what the yield forecasts are based from," Iowa State University Extension cropping systems specialist Mark Licht said. "Some can be very robust that take into account management practices, weather and soil dynamics, while others are survey based with extrapolation."
Licht said that when predictions come in throughout the growing season, producers should not expect their yields to match what is released. This is especially true in a year such as 2018, when the Midwest experienced many weather extremes.
"If a yield forecast can have 5 percent accuracy, that is probably as good as we can expect," Licht said. "However, in extremely variable weather conditions, to get an accurate forecast you may have to wait until August. In ideal growing conditions, yield forecasts using models can make accurate predictions in early June."
This past summer, Scott Irwin and Todd Hubbs from the University of Illinois published an article taking a look at the variability of forecasting corn and soybean yields based on crop condition ratings and found mixed results.
In their results from 1989 to 2016, models showed actual corn yields as much as 10 bushels per acre off the national averages in either direction based on the final Good/Excellent crop condition rating from the USDA. When looking at the Week 25 condition rating, variability was even more noticeable, ranging from 20 bushels higher than the average, to a year in the early 2010s that saw yields almost 30 bushels below the average.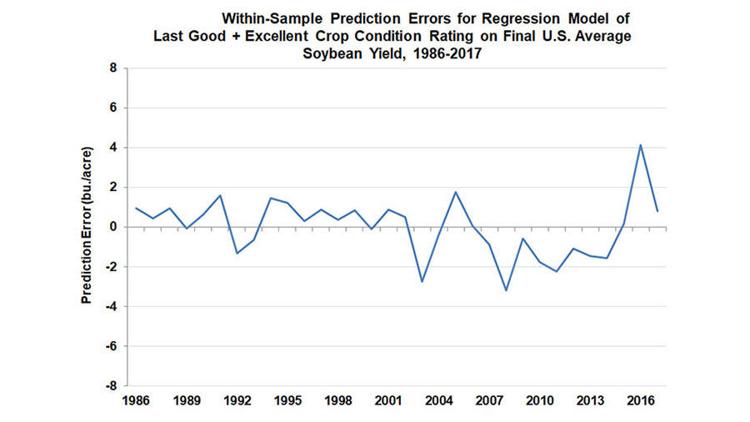 For soybeans, the ranges hit as much as 3-4 bushels per acre off the averages on the final crop condition rating, but were as much as 5-7 bushels off the averages based off the Week 25 crop condition rating.
"During the crop year, some of the more accurate forecasts are around week 33, week 32, which is not the end of the year," said Hubbs, a clinical assistant professor of agricultural commodity markets at the University of Illinois. "It's more in the first of August. It depends on when you got the crop in. Did we get it planted late or early? Did we get dryness? Corn is particularly sensitive to that kind of thing."
Hubbs said much of the forecasted accuracy can be attributed to early crop conditions, especially in years with favorable springs.
"Earlier in the year, if the good to excellent (rating) is high, it tends to over-predict the final yield a bit," Hubbs said. "When we hear these crazy high predictions early in the year, it could happen, but in all probability it's probably going to be a bit high."
With so many weather variables at play, Hubbs said that keeping an eye on the crop conditions in a normal year can be an effective way to help gauge yield.
"I think they are valuable and have a purpose," Hubbs said. "I think in combination with some weather variables you can do a good job where you are at, but it's not going to be perfect. No forecasting model will be, I don't think. I know there's a lot of critics, but you can't expect them to be perfect. It would be nice, but it gives you direction and some sense of magnitude."
While no forecasting model will be "perfect," Licht is seeing some improvements in the models being used.
"Each year crop models gain in reliability; some are better than others," Licht said. "Forecasts that take into account weather, soil and crop processes have the potential to be highly reliable. Models are only as good as the initialization and management practices being included in them. They also can't account for biotic factors such as weed competition, insect/disease pressure, hail, etc."
When farmers try to plan for their own yield outcomes, Licht said some of the common mistakes he sees them make is not taking into account the impact of soil water and nitrogen dynamics, and underestimating the importance of root growth.
"If root growth is restricted, plant uptake of water and nutrients is also restricted," Licht said.