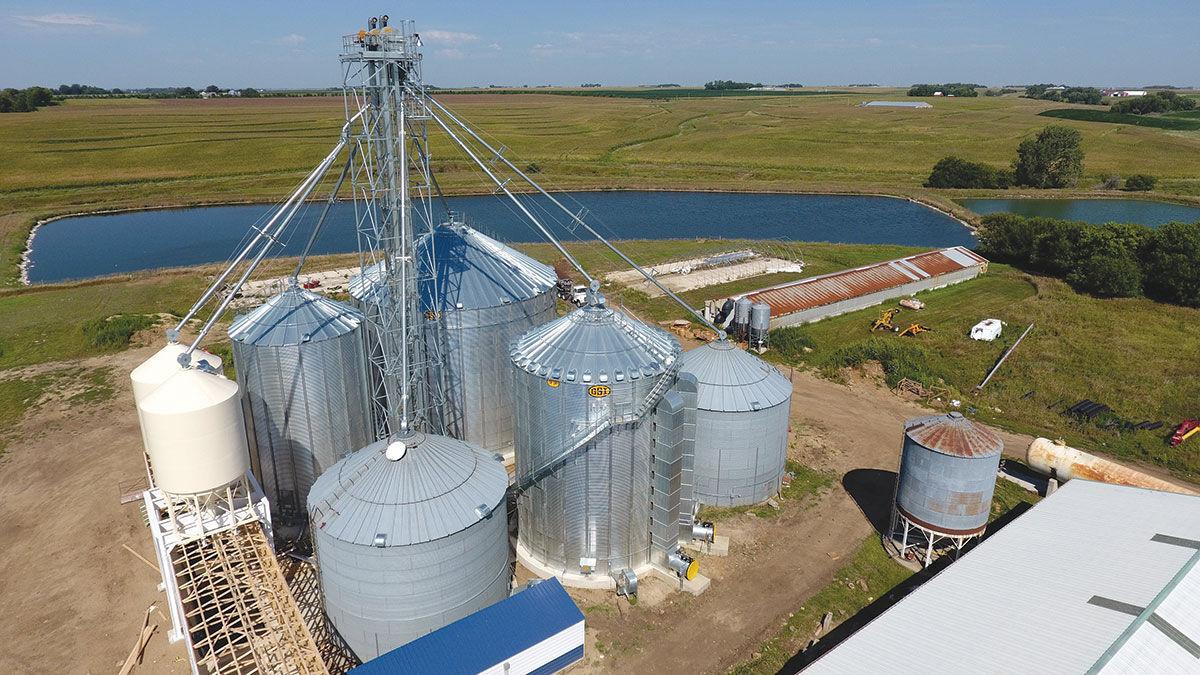 Farmers try to get the most out of their crop every season, but when prices are high, the value of a bushel is even more important. Figuring out how to store those bushels, however, can prove to be a challenge.
Grain storage is what Jon Fehr needed on his organic farm near West Bend and Whittemore, Iowa. Fehr and his family farm in northwest Iowa, but when he and his brothers started to separate their operations, he was missing the right grain storage capabilities.
"I really had no grain facility at all," Fehr said. "I had a few bins on a couple of different sites, but no dryer at all."
Opting for on-farm storage was an easy decision for Fehr because he said it is harder to find commercial storage options for organic crops. He said organic buyers and end users typically don't have the same storage as a normal elevator. Winter or spring deliveries tend to be common, forcing him to hold the crop for a longer period of time.
Fehr used two existing 25,000 bushel bins that were on the farm and worked with Ag Advantage Systems to add more storage and a dryer to the operation. The hardest decision was deciding how much storage he would need.
"We took a look at the existing ground we have, and everything we have is organic or transitioning — we don't farm anything conventionally," Fehr said. "We knew how many acres we had, and I think we used 200 bushels an acre and oversized it. We are hoping to expand in the next few years."
Deciding on how much storage is needed is unique to every farmer. Factors include the size of the farm and what crop is being produced, but Adam Abels with Ag Advantage Systems said to plan for the future.
"You have to plan for now and the future," Abels said. "You need to be able to use it now and grow into it without just going all out right from the start. We try to leave a window for additional growth in the plan."
In Fehr's grain system, he opted to use conveyors to move the grain from storage to a TopDry dryer. Abels said air systems are popular, but conveyor systems can be helpful depending on the capacity a farmer is dealing with.
"Air systems are somewhat limited to types of product you can run through them," Abels said. "They do some smaller grains and sometimes air systems don't like that as much. Conveyors will move anything you throw at it."
Another unique part of Fehr's system is the dryer. He is using a newer drying system, which tries to be more efficient. Abels said it recycles the hot air used by the dryer during the cooling process. This can be easier on the grain because it's a slower cooling process and it isn't getting "shocked" by a quick temperature change.  
In terms of his organic operation, Fehr said having a good system is important because quality is extremely important to the buyers, particularly when it comes to food grains.
"They can get pretty strict on their tolerances," Fehr said. "We were careful (with how we designed it) to minimize crop damage in the handling in the grain."
Fehr said he was lucky to have much of the ordering process done ahead of the pandemic, allowing them to build the system this past summer. Planning ahead helped him get the project done sooner than it might have happened now.
Abels said the timing on grain bin projects hasn't been too affected, but stressed the importance of planning as material shortages could come into play.
"We like to order it maybe seven, eight months in advance," Abels said. "This year, it's the same thing. We ordered probably half of our projects for the whole year in October and took possession of all of our materials before we needed it so if there was a back order it didn't affect us. A lot of people are fighting shortages and back orders, but we've been sitting on ours for nearly six months."