As farmers get into the fields across Iowa this spring, all will be facing their own challenges.
From flooding in southwest Iowa to recovery from drought in 2018 in south central Iowa, the state boasts a lot of variability, and with that comes different forms of management.
"It is extremely variable just in my territory," said Iowa State University Extension agronomist Virgil Schmitt, who serves southeast Iowa.
"There is a saying that if you believe Iowa is flat and nothing but corn and soybeans, get on a bicycle and ride across the state. That is very true."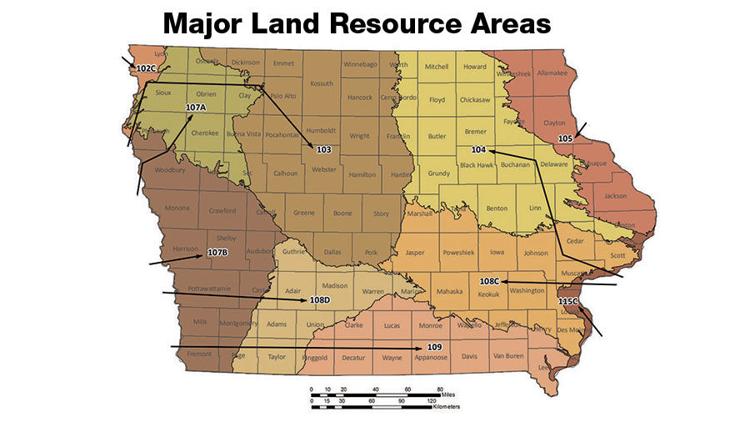 Southwest Iowa
Iowa State Extension agronomist Aaron Saeugling, who covers a large portion of southwest Iowa between Harrison County and Decatur County, said there are flood plains along the state's western border marked by the Missouri River. This is the area currently suffering from the March flooding disaster.
Just a bit to the east in his coverage area, you enter the Loess Hills and very productive soil.
"These are probably some of the most productive soils in the world, to be frank," Saeugling said. "They have really good internal drainage, but we have erosion challenges."
Due to the erosion issues, he said his area operates with a lot of terraces and no-till practices.
Northwest Iowa
Extension agronomist Joel DeJong said that while his coverage area is one of the more livestock dense in the state, it still has very productive soil.
"This area is crop-intense and uses manure as a crop fertilizer nutrient on many acres," DeJong said. "Much of this region is formed in wind-blown loess soils. That means that internal drainage is quite good, allowing for good crop yields in most years."
However, erosion is an issue for DeJong's area between Monona County and Osceola County, due to some severe sloping.
Rainfall is historically short for his region, he said, but the annual average has gone up 10-15% over the past few decades, which has helped them stave off drought more often.
In the more southern part of DeJong's coverage, he said there are areas that are high in sand or clay by the Missouri River bottom. Many of the producers in that area have had to "land level" in an effort to allow more surface runoff for water.
North Central Iowa
The north central region of the state sits on one of the last glacier locations in Iowa, the Des Moines lobe. That makes the soil some of the youngest in Iowa.
"Comparatively speaking to the rest of Iowa, it's a much younger landscape," said Iowa State Extension agronomist Angie Rieck-Hinz. "It's not well-dissected by major drainage ways, though we do have some major rivers. It just hasn't had as many years to erode, though we do still have some of that."
Rieck-Hinz, whose focus is between Calhoun County and Worth County, said her area tends to have cooler soil temperatures. She also said there are a lot of tile drained acres.
"Farmers manage for crop production by installing tile drainage to remove extra water," she said. "That's one of the biggest ways we differ from other parts of Iowa, is we have pretty heavily tiled soils. There are tiled soils in other parts of Iowa, but probably more so in north central Iowa."
Southeast Iowa
In the southeastern portion of Iowa, field agronomist Rebecca Vittetoe said there is quite a difference between her coverage area and where she grew up in northwest Iowa.
"Just comparing northwest Iowa to east central Iowa, there is more no-till and cover crops used in southeast Iowa," Vittetoe said. "A lot of the fields in southeast Iowa are tile drained."
Her coverage area goes from Marion County to Jones County, and much of the southern part of her area tends to have relatively permeable soil, though erosion could be an issue.
"The soils and the landscape are different across Iowa, but no matter what part of the state you are from, it is important to make sure we are taking care of the land that we are farming," she said
Eastern Iowa
In the east, agronomist Virgil Schmitt covers a lot of ground on the Mississippi River border, from Jackson County down to Lee County.
In the northern portion of that area, Schmitt said there tends to be more permeable and well-drained soil, but "erosion tends to be a big issue because of the amount of steeply sloping land."
He said minimizing tillage is important for farmers there, while contour strip cropping (strips of corn and hay alternating) is common as grass can hold the soil better.
The further south you go on the Mississippi River, he said that erosion tends to become less of an issue, but drainage tends to be the key.