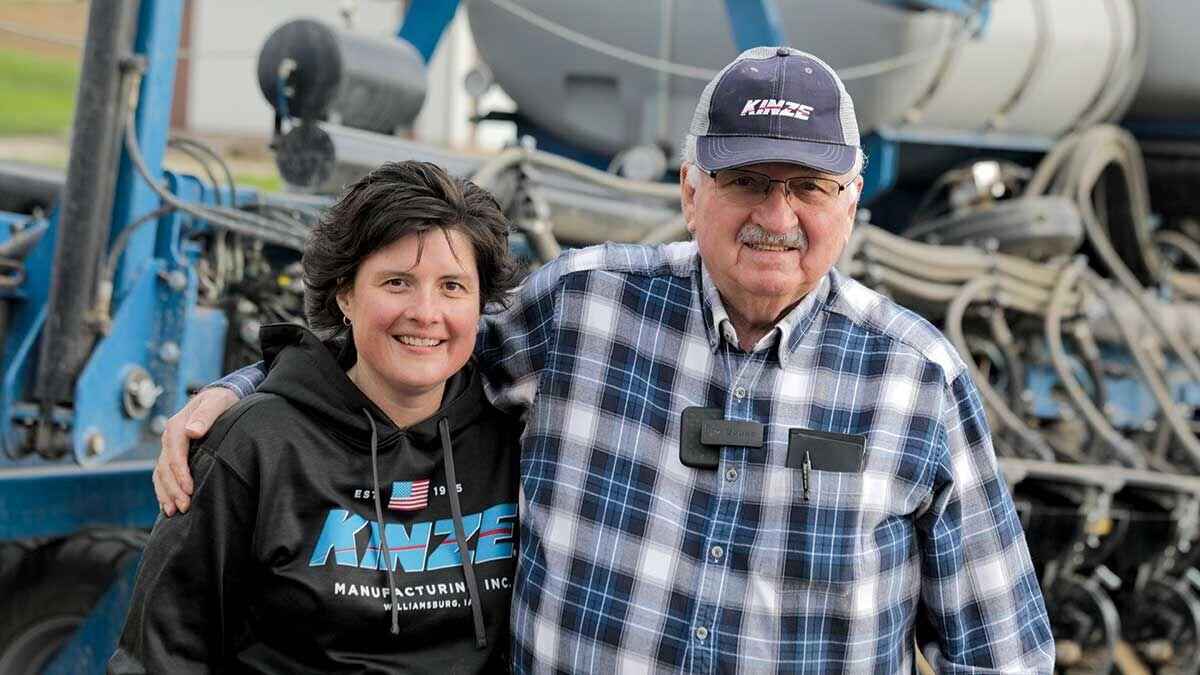 Editor's note: This is part of a series on ag equipment inventors past and present from the Midwest.
WILLIAMSBURG, Iowa — Jon Kinzenbaw has created and accomplished much in his lifetime, but back in 1965 he may have considered starting his business more of a back-up plan.
"My first choice would have been to farm," Kinzenbaw said. "But since Dad couldn't afford to start me farming, my second choice was to go out and get a job."
Kinzenbaw said his dad and uncle rarely had a mechanic from a dealership out to help fix their tractors, so he was able to learn a lot about how equipment worked. When he turned 18 and couldn't farm full time, he set out to keep working with machines.
He would build refrigerators, at a local plant, work at an implement dealership and service trucks at a truck stop. Soon, he opened his own welding and repair business, and his ideas started to take off.
He started Kinze at 21 years old, growing it into a household name for many families in agriculture. From his first patented product — a high-clearance, variable-width moldboard plow — and the first set of grain carts the company produced in 1971, Kinzenbaw, who serves as CEO at the company, has had a drive to keep seeing innovation in agriculture.
That drive has carried into one of the core values of the company, and in his own family. Susanne Veatch, Kinzenbaw's daughter, serves as the president and chief marketing officer of the company and said the business was a part of their family growing up.
"It was a very big part of our lives," Veatch said. "We always enjoyed that there was always something going on, whether we'd be on a vacation and visit a nearby dealer. We always had something interesting going on."
Veatch, who rejoined Kinze after working for other companies after college, said working with her father in the family business has been a good learning opportunity. She said she has seen what it takes to grow a business and how it can push into the future.
"I think I really started to understand what challenges you have running a business and how you work through them," she said. "One thing about my dad is, he has always been very resilient. I've learned a lot by working beside him and watching how he thinks through and solves issues. I'm still learning. It's been great to have him still here and have his input."
In the 56 years of Kinze's existence, Kinzenbaw said he has always tried to give a little more with his equipment. In 1971, he remembers taking a 300 horsepower tractor to the Farm Progress Show and showing how it could plow at 7 miles per hour, which caused a stir at the event.
"I taught the world you could plow at 7 miles per hour with a seven-bottom plow with a two-wheel drive tractor with just single rear tires on it," he said. "It blew the theory you couldn't harness that kind of power out of the water."
Another major innovation Kinzenbaw is proud of is the innovation of the large grain cart wheels that have become commonplace on field equipment in today's world. He said farmers were fighting mud in the late 1960s and early 1970s, and the only competitor in the industry at the time was using airplane-type tires that were short, without any tread. The tire would sink and slide over fields. He wanted to find a way to improve on that issue.
"I remember the first people looked at my big tires as if you couldn't take them out in the field and worried they would pull too hard," he said. "A lot of people didn't understand that the high-wheel wagon that settled this country was tall before it was wider. It was taller so it would turn in soft conditions."
This year marks the 50-year anniversary of Kinze's grain carts, and Veatch said the company is running a contest to find the oldest grain carts still in use. That has led to some good photos and memories.
"It's fun to see the pictures of the grain carts that are however-many years old, and people still take a lot of pride in their grain carts," Veatch said.
When people see blue in the field, thoughts now go to Kinze equipment, but deciding on that distinctive color was relatively simple, Kinzenbaw said.
"Blue was the other dominant color that wasn't being used," he said. "Red was successful, green was successful, and so the logical choice was blue. Royal blue was also my mother's favorite color, too."
Kinzenbaw grew up between Victor and Ladora, Iowa, near Williamsburg, and still farms in Ladora. Whenever he is out working in a tractor cab, he continues to think of ideas to move agriculture forward.
"I like to sit in a planter or tractor and think of ways things can be done better," he said. "If I come up with an idea, I'm going to pass it along. It doesn't come as quick or often as it used to, but I still have some ideas."
As Kinzenbaw looks to the future, he said autonomy seems to be one of the biggest technologies set up to shake up the agriculture industry. The company previously worked on creating autonomous grain carts, since discontinued, even demonstrating in a field how it could follow a combine in a figure-eight pattern better than a human driver could.
With the potential for less hands-on work in the cab, it may make things more efficient for farmers. Veatch said Kinze continues to focus on innovation to help farmers be more productive. For example, the company recently introduced a new lineup of True Speed high-speed planters that enable farmers to double the number of acres they can cover in a typical day.
"We're a company that values technology and simplicity," she said. "We've had very positive feedback from customers about how this simple planting solution provides more flexibility and productivity during planting season."