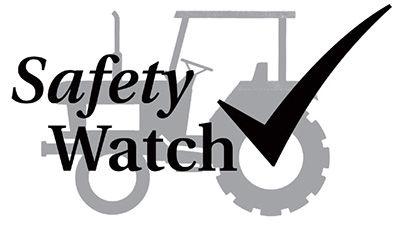 If you read this column, you have probably learned a bit about preventing farm-related injuries over the years. What you might not know is that the Iowa Department of Public Health has a designated surveillance program that helps us keep track of the injuries and fatalities that we often report about here in Safety Watch.
Injury surveillance often flies under the radar, but recently, one of the long-time directors of the Occupational Health and Safety Surveillance Program was recognized for her many important contributions to health and safety over the years. Kathy Leinenkugel, who retired from IDPH in January after 14 years of service, received the Iowa Public Health Heroes Award from University of Iowa College of Public Health Dean Edith Parker in early May, and the I-CASH Hall of Fame Award later that month to recognize her important work in injury surveillance and prevention.
In addition to her main role at IDPH, Kathy was instrumental in funding the Iowa Fatality Assessment and Control Evaluation (Iowa FACE) program, she also collected data regarding brain injuries and coordinated with the Iowa Brain Injury Alliance, and managed the Adult Blood Lead Epidemiology and Surveillance (ABLES) program, which notified employers and employees of lead exposures and prepared educational materials. Given all of this experience, Kathy also played a major role in putting together the annual Burden of Injury reports to the state of Iowa, with much of it coming from her data.
Stephanie Leonard, UI safety manager and industrial hygienist, worked with Kathy on the Iowa FACE Program. This program was active until 2015 and collected information on work-related fatalities in Iowa. The detailed reports described all of the factors that contributed to a fatality, and also provided recommendations to protect other workers both in Iowa and nationally. Leonard says, "Kathy was a meticulous data manager who saw the small details and paid attention to those to ensure accuracy."
For Kathy, gathering data in and of itself was not her goal. Helping people in the field of public health know how to use the data to tell the story and to make ethical decisions was very much her aim.
In addition to her surveillance work, Kathy served on the Advisory Board for Iowa's Center for Agricultural Safety and Health (I-CASH). She joined the board in 2008, at the beginning of her career at IDPH.
Tom Newton, IDPH director at the time, wrote in his appointment letter: "Her position on the board will strengthen the linkage between the National Institute for Occupational Safety and Health (NIOSH) funded program and the work of the I-CASH surveillance committee. I appreciate the relationship that our two organizations maintain and I-CASH's continued leadership on safety and health issues facing Iowans."
Indeed, Kathy's presence on the board was a great gift to all of us who worked with her.
Dr. Charles Jennissen, an emergency department physician, says "I have enjoyed working with Kathy on the I-CASH Advisory Board for several decades. She often provided informed insights and excellent ideas during our group discussions. Kathy was always interested in what we were doing to educate the public regarding ATV safety and injury prevention. She helped promote efforts in this area at the state level which I always appreciated."
Another major project of Kathy's was coordinating the Health and Safety Tent at the Farm Progress show when it was held in Boone, Iowa, every other year. She recruited and coordinated displays from more than 20 exhibitors in the tent and encouraged them to focus on hands-on activities that showcase the breadth of rural and agricultural health issues.
Thanks to Kathy's leadership, the tent became a major event for public health outreach to the agricultural community and an important space for networking and collaboration among the exhibitors, who came from across the Midwest to participate.
A good injury surveillance program doesn't usually get a lot of attention. It's a resource for researchers, public health staff and the general public to learn more about rates and severity of injury, as well as to help us learn how to prevent them. The state of Iowa has benefited from Kathy Leinenkugel's work for many years, even if most residents have not been aware of her efforts.
As her colleagues have shared, the value of her work goes well beyond her skills as a data analyst to include her kindness, collaborative spirit and a dedication to keeping Iowans safe and healthy.
---
Brandi Janssen and Gayle Olson are with Iowa's Center for Agricultural Safety and Health (I-CASH) at the University of Iowa College of Public Health.