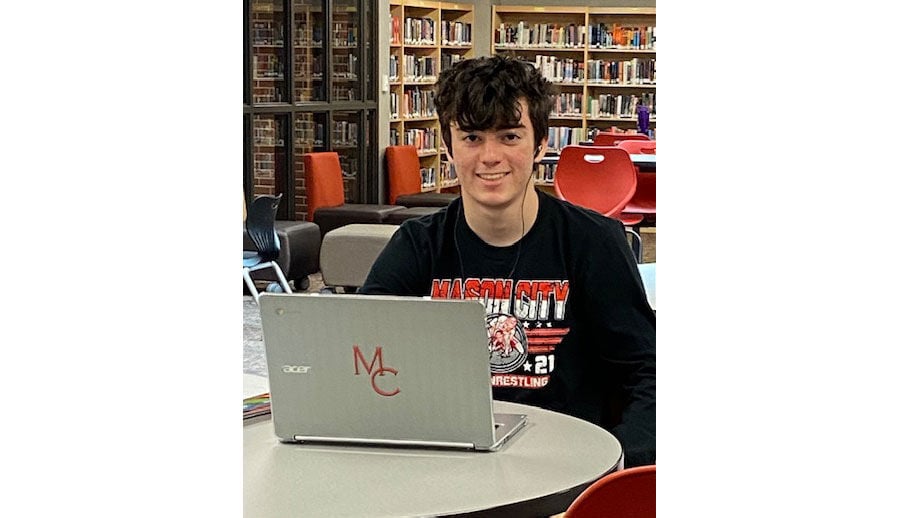 Editor's note: This is part of a series on youth under 18 making a difference or growing a business.
MASON CITY, Iowa — What started as a high school research project for Kale DiMarco turned into a presentation at a global conference.
DiMarco, a junior at Mason City High School in northern Iowa, took part in the Global Youth Institute this past October, a program within the World Food Prize Foundation where 200 students around the world present and discuss various topics with Nobel and World Food Prize laureates.
DiMarco said being able to converse with these experts was a great experience — and a little scary.
"There were a lot of professors, field experts, politicians and even a speaker from the United Nations — a lot of important people," DiMarco said. "The first time (at the state competition) it wasn't so intimidating, but (at the global level) it was a step up. It was kind of intimidating."
The program starts every year with the Iowa Youth Institute, typically held in late April. Dawn Guritz, an English teacher at Mason City High School who advised DiMarco, said she likes to have the initial drafts of papers from her students before spring break so they can fine tune or address anything that may need more research.
The top students that present at the state level advance to the Global Youth Institute, which is normally held in Des Moines, but was held virtually this year Oct. 18-22.
"The extent of the research that kids do and the work that goes into writing a research paper wasn't in the curriculum as well as I would have liked, so I helped get this started," Guritz said.
In his project, DiMarco focused on Ghana, looking at how sustainable practices and food production can go together. He said practices shouldn't just center around the environment, but around agricultural education as well. Poorer countries should prioritize producing food first and then find ways to focus on the environment.
"It's about trying to produce enough food without harming the environment, but also producing food your family can eat and your community can eat," DiMarco said. "In the U.S., where we have an abundance of food, maybe we should focus on ways to not harm the environment, but in Ghana, I figured the
No. 1 focus should be on ways to improve farming first."
Since DiMarco hasn't grown up on a farm, he said there was a lot of learning to be done when beginning this project. He learned a lot about practices such as no-till and slash-and-burn agriculture in his research and said he learned there are a lot of ways to produce a crop. For his Ghana project, he said no till was one of the practices he researched the most because he hadn't considered the possibility.
"I was thinking, 'How do you even do that? How do you have a farm where you aren't going through and tilling the soil?'" he said. "That's what farming was to me. I learned you could do a reasonably sized operation based around no till and then became fascinated by it."
DiMarco said the major aspect of his paper the panelists focused on was about the psychology of farmers, both in Ghana and the U.S., and how farming isn't simply a job for many.
"It's a way of life," he said. "Farmers are separated from the city in more rural areas and this is what they do all year round. They don't really have hours they work, but they have to get the job done and feed people and feed the world. If you want to ask them to change their practices and habits, you are going to need someone to show them why."
After doing this research and learning more about food and agriculture, DiMarco said he has considered pursuing more education on this topic in the future.
"I definitely think this opened some things up. It's really interesting," he said. "I definitely could get interested in ag business or something of that nature."