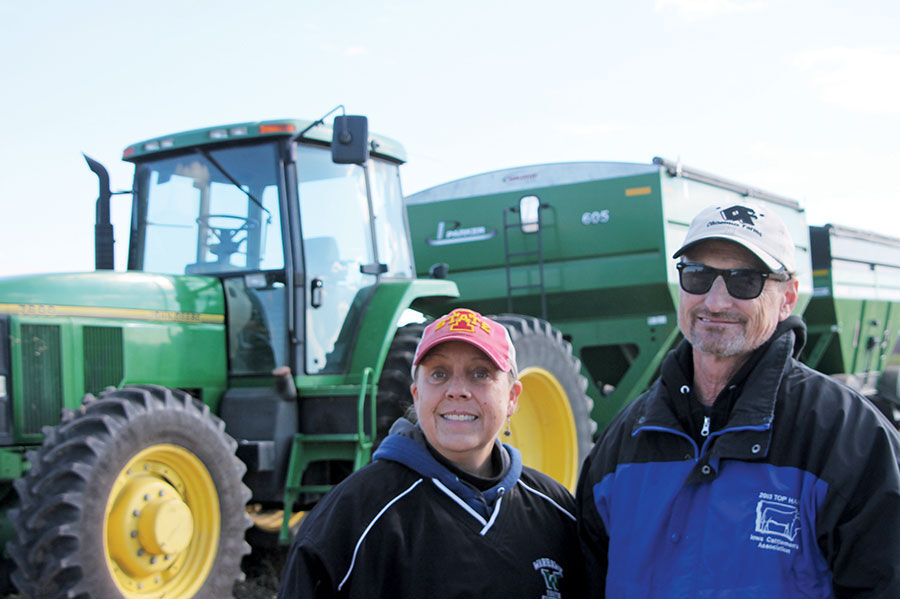 MILO, Iowa — Duane and Mary Jo Ohnemus stand by a John Deere tractor as they take a break from the fall harvest.
"It's really just starting to hit us," Duane says of the supply chain problems that have been affecting many industries lately, pushing prices higher for some items and making others difficult to obtain. "It hasn't been that much of an issue until now."
But Ohnemus is finding that getting spare parts for his machinery is starting to become a challenge. That has been exacerbated by the strike at Deere. Getting a tire when one goes bad, or getting a metal gate when one breaks, or trying to line up fertilizer applications or buy fuel are all becoming just a little bit more difficult and pricey.
"This year has been profitable, but …" He leaves the word hanging in the air. If fertilizer prices continue to shoot up or if other crop inputs should skyrocket or become difficult to obtain, the situation for next year may not look quite so profitable.
"We can't plant all soybeans," he says, referring to the fact corn requires more fertilizer inputs.
The couple grows corn, beans and hay and also has a small cow-calf operation. When the COVID-19 crisis hit in 2020, the occasional side of beef they would sell to friends and neighbors suddenly turned into selling as many sides as they could get processed at the busy meat locker. They saw the agricultural market change in ways both bold and subtle.
What is happening to the economy now is largely a response to the gyration the economy went through in the past year and a half, says Erkut Sonmez, a professor of supply chain systems and analytics at the University of Nebraska.
Large pieces of the economy shut down in 2020. People were unemployed. Some production facilities were forced to close due to safety concerns. Shipping was disrupted.
Those disruptions changed consumer psychology, creating a multiplier effect, Sonmez says. Consumers who were used to always being able to find toilet paper on the shelves, when they were confronted with an empty shelf, decided that next time instead of buying one package, they should buy four.
At the same time, consumers who were no longer going to restaurants and movies began spending more money on things like home repairs, wood and other tangible items, he says. That created a surge in demand.
Sonmez says many people like to blame the "just in time" delivery systems for the problem (referring to a production model in which items are created to meet demand, not created in surplus or in advance of need). The system was efficient but not especially resilient.
One piece of good news in all this, according to Mike Steenhoek of the Soy Transportation Coalition, is that the Biden administration is pushing through two infrastructure bills. Those will do little to solve the economic issues this winter, but they will help farmers and the economy as a whole in the future, he says.
The fact is few of the present problems can be blamed on politicians of either party, Steenhoek says. They are simply the result of a massive disruption to the economy.
He and Sonmez both say there is likely little politicians can do to address this fall and winter's supply chain problems.
Steenhoek suggests a couple of things might help. Anything that encourages people to re-enter the workforce could help, he says. A bill also recently passed that would allow 18-20 year olds to get their commercial driver's licenses and to be able to drive on the freeway as a way of trying to address the shortage of truck drivers. Increasing weight limits for trucks if they add additional axles could also help.
None of those items is going to make a big dent in the present situation, Steenhoek says. Longer-term solutions might include items such as expanding and improving the immigration system and the H2A program for agricultural workers.
The situation is unlikely to be resolved quickly, Sonmez says. There will likely continue to be some shipping and storage and labor issues into next year, and making adjustments will take time.
Meanwhile, Duane and Mary Jo Ohnemus are struggling to find spare parts and to make any type of reasonable business plan for the next year. Duane is going to more equipment auctions and sales, picking up old machinery for parts and buying old gates he can repair.
"A sixteen-foot gate was $120," he says. "Now it is closer to $350."
But, he says he can't afford to not have a gate or to not have a combine and tractor that are running at key times. And so he copes as best he can with an uncertain situation.