NEW HAMPTON, Iowa — They call him a New Hampton gem and a Chickasaw jewel, and on Oct. 13, Paul Hassman, age 105, was the star of the show as Iowa FFA officers presented him with his own blue corduroy jacket.
"Well, well, well," Hassman said as he held up his jacket and beamed a big smile. "This is a shock. Someone went to a lot of work, and I appreciate it."
Hassman was Iowa FFA first vice president in 1934-35. Iowa's first FFA chapters had just formed in 1929, with New Hampton organizing in 1931. Hassman received his Iowa FFA Degree in 1933, New Hampton's first.
Iowa FFA President Chandler Jahner of Pella said the quest to get Hassman a jacket started last summer, when Iowa FFA Foundation's Bryon Weesner arranged a meeting for state officers with Hassman.
It is part of Weesner's job to track past state officers. He was going through his list and he searched Hassman's name online, hoping to find some historical information.
"I found a picture of Paul in the middle of New Hampton during RAGBRAI several years ago," Weesner said. "When I called New Hampton FFA advisor Jim Russ and asked if he knew Paul, he said, 'Absolutely.'"
Hassman is the oldest living past state officer in Iowa, and Weesner's pretty sure he's the oldest living state officer in the country.
He thought Hassman's visit with the state officers might last 15 minutes, but it continued for an hour and 45 minutes. Hassman shared his ideas on the value of hard work, honesty and dedication to the job at hand.
At the end, Hassman told Jahner he bet his FFA jacket would fit him. Jahner let him try it on and "it fit like a glove."
The Iowa FFA Association and Foundation and New Hampton FFA and Alumni worked together to get Hassman a jacket.
"The blue corduroy jacket unites us as state officers, as FFA members, as a family," Jahner said during the jacket presentation Oct. 13. "Today we're given an opportunity to unite the past and present. We'd like to present you, Paul, with your own corduroy jacket."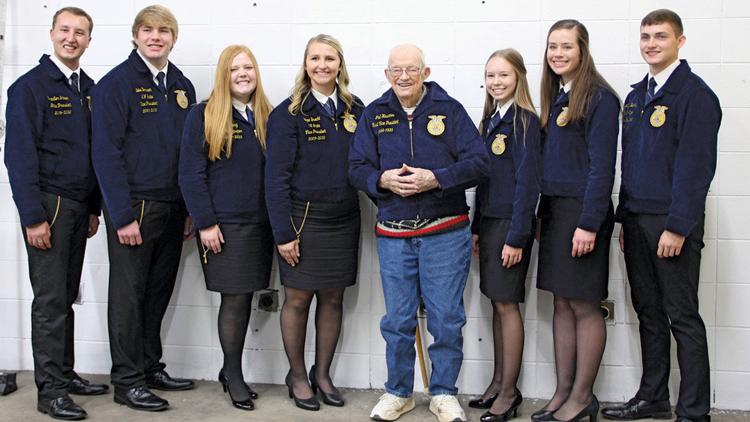 With state officers helping, Hassman proudly put on his jacket.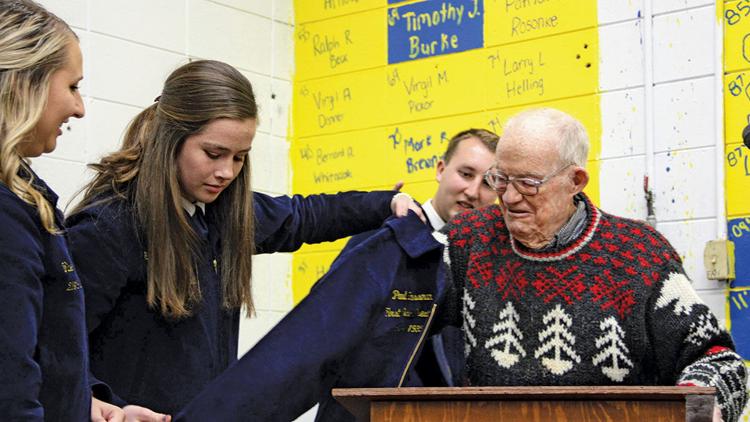 Jahner said FFA has provided him with a lot of great opportunities, but meeting Hassman and presenting him a jacket tops them all.
"To be able to recognize an FFA family member in that way, to say this is how much we owe you, it means the absolute world to me," Jahner said.
Hassman is part of a huge FFA family, Jahner said.
"When Paul joined the FFA family, Franklin Delano Roosevelt was president, the country was reeling from economic collapse and agriculture was suffering the effects of the Dust Bowl," Jahner said. "Paul served those individuals who believed in the future of agriculture. It's something that is incredible to think about today."
Agriculture has changed since 1934, but meeting Hassman showed Jahner that "the core values that make us who we are haven't."
"The conversation with Paul focused on work ethic, dedication and striving to love others, something people in 1934 needed and something that people in 2019 need," Jahner said.
Hassman grew up on a farm south of New Hampton. He got to his first 30 days of high school via horse and buggy. He raised and cared for a Spotted Poland sow and a litter of pigs as his project for his Iowa FFA Degree.
He admits he did not like to study and did not do well in school, but he did enjoy athletics. He was New Hampton's first state champion wrestler in 1933.
Hassman attended Iowa State University for a couple of years but college was not really his thing. He met his wife, Lucille, there. She was a teacher.
The couple moved back to New Hampton and raised eight children. Hassman ran a trucking business, delivering feed to 13 northeast Iowa counties, and also bought and sold grain.
Hassman lives at Kensington Place Assisted Living in New Hampton, is a long-time Rotarian and community volunteer, and he likes to play Scrabble. He attended the recognition event with his youngest son Kevin.
Hassman offered this advice to FFA members: "Whatever you're doing, apply yourself and work on it. It's part of our responsibility to help those who need some help. Be a good neighbor and friend. Don't be selfish and think too much of yourself."