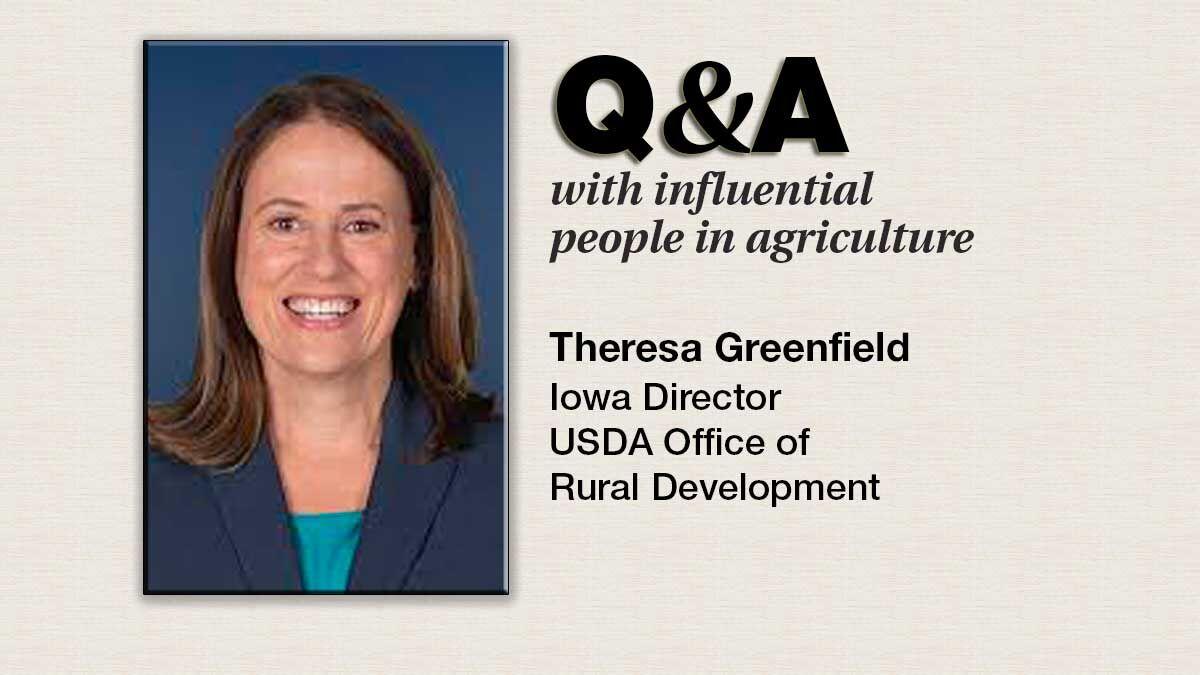 Theresa Greenfield is the new head of Iowa's USDA Office of Rural Development.
Rural Development offers loans, grants and loan guarantees to help create jobs and support economic development and essential services such as housing; health care; first responder services and equipment; and water, electric and communications infrastructure.
The agency provides technical assistance to help communities undertake community empowerment programs.
It also helps rural residents buy or rent safe, affordable housing and make health and safety repairs to their homes.
Greenfield grew up in southern Minnesota and worked in urban planning and real estate before becoming the Democratic nominee for the U.S. Senate in 2020, a race she lost to incumbent Republican Joni Ernst.
IFT: Tell us about your youth.
GREENFIELD: I grew up on a little bitty farm outside a town of 500 near Bricelyn, Minnesota. We were actually closer to the elevator in Rake, Iowa, than the one in Bricelyn. I was one of five kids on the farm. We had row crops and hogs. My dad was also a crop duster. I loved growing up on the farm. I still miss it today. And my parents, who are in their 80s, still live on the same farm they bought when they were teenagers.
IFT: Where did you go to school?
GREENFIELD: After high school I went to Iowa Lakes Community College in Estherville and then to Iowa State University, but I ended up graduating from what we then called Mankato State University. I earned a degree in design and human development there.
IFT: What led you to rural development?
GREENFIELD: I've always had a passion for it. Our family was always active in the community. I studied housing and design and worked as a community planner for about 15 years. One of my first clients was the township of Greenfield, Minnesota. I spent those years working with small towns and big towns, getting an appreciation for the decisions made at the local level for things like hospitals and water systems.
After that I joined a home-building company and worked on some economic development issues there. Ultimately, I worked in commercial real estate.
I look at this as a chance to bring all those experiences together, from walking beans to commercial development.
IFT: When most people think of the USDA, they think of commodity programs. Tell us about USDA Rural Development.
GREENFIELD: We work on the things you don't always notice when driving around the state, things like water systems and hospitals and electrical service. We were just up in Clarion the week before Christmas. President Biden had announced infrastructure investments and they included $8.1 million for a water treatment plant there. It's not just that, though. We also invested $91 million in the Corn Belt Power Cooperative to help modernize energy infrastructure in the 41 county area they serve.
We make a big impact, but it doesn't always get the biggest bang in the public eye because it is about building and rebuilding that rural infrastructure.
I look at it this way. My parents drive 20 or 30 miles to the nearest hospital. If that rural hospital or one like it closes, it means people will need to drive even further. That's a problem.
IFT: Your background is also in housing and real estate. USDA Rural Development does quite a bit of work in that area, doesn't it?
GREENFIELD: Last year we spent about $700 million in Iowa, and housing was probably about $250 million of that total. We help with providing rural housing, getting access to homes, refinancing.
IFT: How have the COVID aid and the recently passed infrastructure bill impacted your work?
GREENFIELD: It has absolutely pumped more money into rural areas. This came from programs to refinance or to help people access resources or to deal with climate change. For example, a convenience store might get money to buy more energy-efficient equipment. We might be helping to build a new water or sewage treatment system. There could be help for a rural hospital or for rural broadband or for housing in a rural area.
IFT: We don't know if the proposed Build Back Better legislation will be passed or if so in what form, but is it safe to say that legislation could pump more money into this effort?
GREENFIELD: We'll have to wait and see what the elected members of Congress decide. We do know that items such as child care have been included in some drafts of that legislation and that is an important issue in rural areas.
IFT: It really sounds like this is a good time to be with rural development. Is this USDA Rural Development's time in the sun?
GREENFIELD: Now you know why I am happy to be here. Really, though, we've been investing in rural America for generations. The administration is committed to this idea. I think it makes all of us more prosperous. There are a number of infrastructure areas, not all of them through USDA Rural Development, which could get help. It runs from roads and bridges to the recently announced $1 billion investment in independent livestock processing.
IFT: It sounds like you are going to be busy.
GREENFIELD: We are. But we have a great staff and I encourage anybody to contact one of our 10 offices around the state if they have questions. Reach out and contact us.