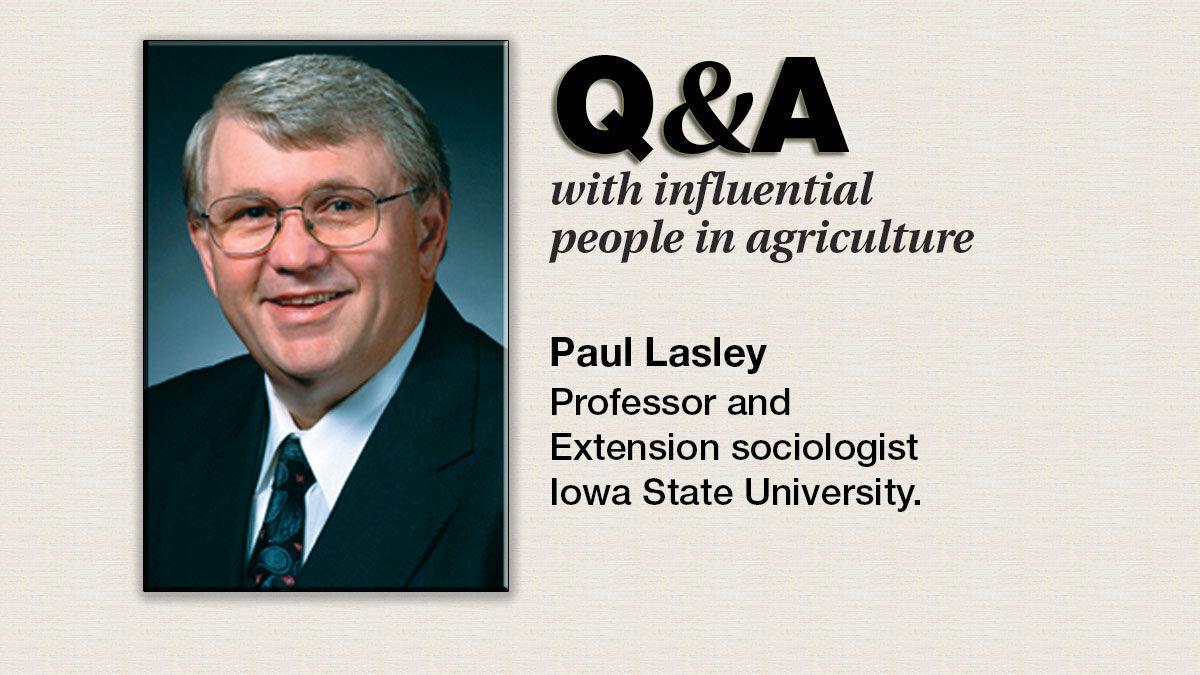 Paul Lasley retired June 30 as a professor and Extension sociologist at Iowa State University.
Lasley, 69, grew up on a farm near Queen City, Missouri, and came to ISU in 1981 after receiving his undergraduate and graduate degrees at the University of Missouri. Lasley chaired both the sociology and anthropology departments at ISU, and is widely known for helping to develop the Iowa Farm and Rural Life Poll in 1982.
IFT: How did choose your career path?
LASLEY: I wasn't entirely sure what I wanted to do, but when I was in school, I found courses on sociology very interesting. My bachelor's degree is in animal husbandry, but because of my interest in sociology, a couple professors thought they needed to get me into grad school.
IFT: You started working at ISU in 1981. Describe that experience.
LASLEY: I was very fortunate to come into a good department with a lot of support, and a department that had a real concern for the well-being of rural America.
IFT: Not long after you started at ISU, the farm crisis of the mid-1980s bared its teeth. It had to be overwhelming for you and your colleagues. How rough was it for not only rural America, but those who were trying to help farmers through it?
LASLEY: It was the worst financial crisis since the Great Depression. We were doing our best to provide information to the various entities, to let people outside of the rural community know what was happening. We were able to document the extent of the financial hardship these people were going through, and hopefully we were able to inform folks about the plight of rural America.
We were criticized at times by people who felt we were exaggerating the impact of this crisis, even though we had the data to prove its seriousness. They said we were fostering the crisis, but they weren't seeing the ramifications of what was happening. In the early years, the victims weren't as visible, but eventually people understood the larger issue.
We also had more farm kids heading to college because they were told there were no opportunities on the farm. That had a huge impact on future generations.
IFT: It's been nearly 40 years since the farm crisis. Is its impact still being felt today?
LASLEY: It absolutely changed agriculture and rural life, and it also showed the fabric of rural America. Crisis tends to bring out the best in people, and we saw how everyone pulled together, just like they do with floods, tornadoes and other natural disasters.
IFT: Speaking of disaster, throughout much of your career you worked with people who were at perhaps the lowest point of their lives. How did you cope with that?
LASLEY: I relied heavily on my faith, and I've always tried to look for the goodness in people. I always want to give people the benefit of the doubt and hope that I could help them.
IFT: Agriculture has changed dramatically over the past 40 years, as has rural America. What are some of the biggest changes?
LASLEY: The biggest change could be the smaller number of farmers. I would love to see 200,000 farms in Iowa, but to support that number, you have to be able to make a profit and have a decent quality of life.
Over the last 40 years, we have also seen more specialization and a change in our farm infrastructure. Economic forces have overwhelmed a large number of family farms.
Specialization is a big transformation. Forty years ago, we had a lot of diversified farms, where farmers grew crops and raised livestock. We don't see as much of that. At times I think we have pushed specialization too far. I would like to see that pendulum swing back some time.
IFT: Did you enjoy working with Extension?
LASLEY: Extension is all about teaching, and I loved that part of the job. I also loved being a professor and being able to work with students. I have been blessed to work with some great people, and I have learned from each and every one of them. I have always found the wisdom out there in rural America to be very invigorating.
IFT: As you reflect on your career, what strikes you as being especially meaningful?
LASLEY: I was raised in a junkyard before we started farming, although my grandparents farmed. In my wildest dreams, I never envisioned spending 40 years in a career with the level of satisfaction I have.
I've always felt I was in the right place at the right time when I went to Iowa State. I was comfortable there, and you bloom where you are planted. I was blessed to work colleagues who were very supportive of what I was doing, and overall it was a good fit for me. I never had any reason to leave.