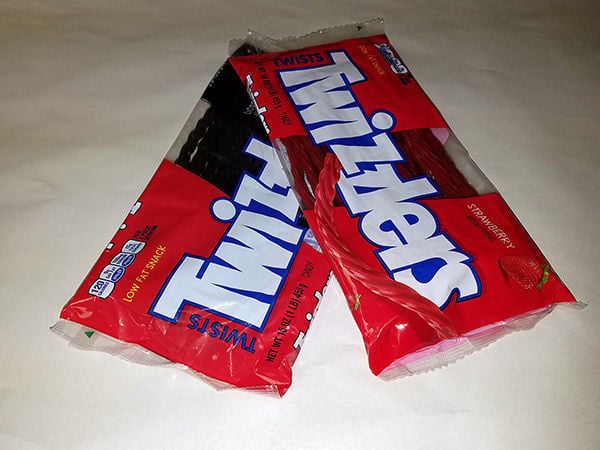 What a surprise to many — and even to some wheat farmers — to learn that wheat is used to make certain items, such as the popular Twizzlers licorice candy.
"Wheat is actually the second listed ingredient on the Twizzlers package … right after corn syrup," said Jordan Hildebrand, program assistant for the Kansas Wheat Commission and Kansas Association of Wheat Growers in Manhattan, Kan. "A lot of the farm goes into the package."
And, no, this isn't anything new. In fact, it's something that's always been in there.
"We take Twizzlers to special events like our 'Kid Days,' and kids have no idea there's wheat in their licorice," Hildebrand said. "They think of wheat more in bread, pancakes, and pasta, but sure enough there's wheat in Twizzlers."
Like other candies, Twizzlers also contains sugar, as well as artificial flavoring and coloring.
Officials say it's the gluten in wheat flour that binds the other ingredients together. It's difficult to pin-point the wheat flour taste in Twizzlers — although it's said to be easier to detect in natural licorice.
The company that originally owned Cherry Twizzlers was established in 1845 as Young and Smylie, and adopted Y&S as its trademark in 1870, then changed its name to Y&S Candies Inc. in 1968. Hildebrand noted the company was acquired by Hershey Foods in 1977.
Incidentally, Hildebrand said, wheat can also be put in plastics, copy paper, paper towels and even toi-let paper, although it's not very popular yet. Other Kansas wheat specialists say various unusual uses for wheat include hair conditioners, glue for postage stamps, and straw particle board used in kitchen cabinets.
"Primarily, the innovation happens in the food sector," Hildebrand said. "Meanwhile, we've seen local breweries and distilleries even here in Kansas with new (wheat) products. There are some wheat beers here in Manhattan, Wichita and in western Kansas (The Beaver, Kan., Brewery).
"Also, Boot Hill Distillery in Dodge City is a couple of years old, and was established by Kansas wheat farmers who've been looking to diversify. It's been a good addition."
Wheat State Distilling in Wichita uses wheat in vodka and whiskey.
Hildebrand said grain scientists from Kansas State University are some of the people embarking on these ideas to incorporate wheat in various products.
"It's all local folks who've learned the trades and are investing in their local communities and finding ways to use wheat in their products," she said.
That includes grain scientist David Bahre, the master distiller and owner of Wheat State Distilling, who earned his master's degree in agribusiness from Kansas State University and a bachelor's degree in milling science administration. Bahre — who runs the distillery with his wife and daughter — uses only Kansas-grown ingredients and purchases wheat directly from farmers all over the state.
"Yes, I buy seed wheat or stored wheat if it's been treated for human consumption. Most of what I purchase is soft wheat, however we do use hard red winter sometimes. I pay $1 over cash," said Bah-re, a Wichita native who welcomes inquiries from farmers. "I've had to come out with corn-based products, too, because of the push-back against wheat and gluten, so only bourbon and some of our vodkas are made with wheat."