When Dr. Ray Ward travels to the Nebraska State Capitol, he is not scanning the horizon for the city skyline. He sees the remnants of the moraine glacier and the diversity of the soils all around.
Ward's name is synonymous with soil and is known across the state and worldwide because he has literally touched countless miles of it as the founder of Ward Laboratories, the business he started with his wife Jolene 40 years ago.
His commitment to preserving the soil resource and conducting careful analysis continues for the next generation.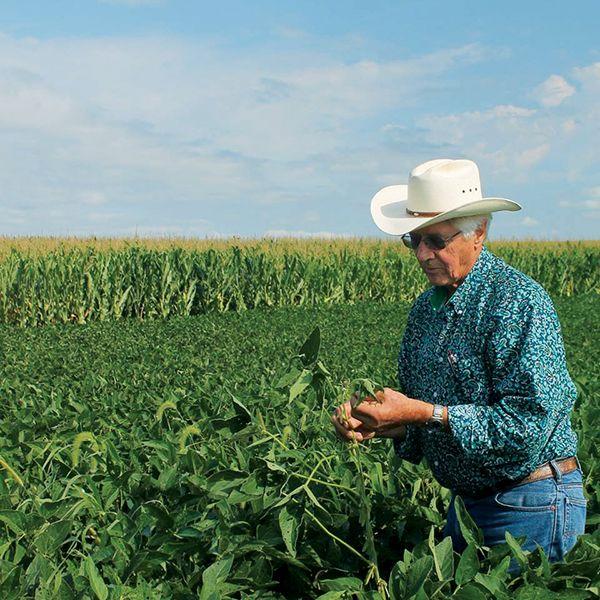 Ward's message for farmers begins simply: "You don't put more diesel in the tank when the tank is full. The same goes for the soil. You shouldn't apply more nutrients than you need."
"This is why it's important to save the soil," Ward said adamantly, motioning to a picture of him and Jolene with six of their seven great-grandchildren.
It's important for farmers to save the soil, slowing erosion and using water as efficiently as possible. Those responsibilities are on each grower, he said.
"We can't just put out the rhetoric that we are leaving the land better than we found it. I want to see it," he said. "I don't want to see silt in the road ditches. I want the flood water running fairly clear."
Family, friends and business colleagues will come together to celebrate Ward's work and his 85th birthday at an Aug. 5 open house at the lab headquarters, 4007 Cherry Ave. in Kearney.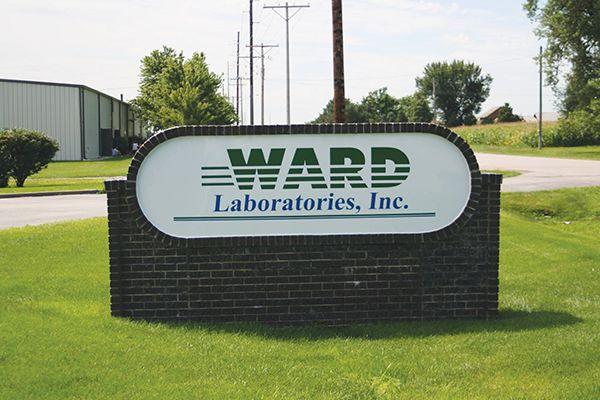 Today, Ward continues to head to Ward Labs nearly every day where his grandson, Nick Ward, now serves as president. He is excited about the future of agriculture and the gradual changes he is seeing across the countryside as farmers recognize the vital importance of not only what is growing above the soil, but also the health of the soil beneath the surface.
He is so dedicated to the gradual shift in thinking about soil health across the state and nation, that he created the Ward Laboratories exclusive Soil Health Assessment for farmers and ranchers.
Each and every assessment crosses his desk.
It's intended to go far beyond other soil tests – measuring the biological, chemical, and physical properties of the soil resource, while striving to maintain and grow crop productivity.
To understand the depth of Ward's knowledge and analytical ability, one must travel back through his lifetime of experiences.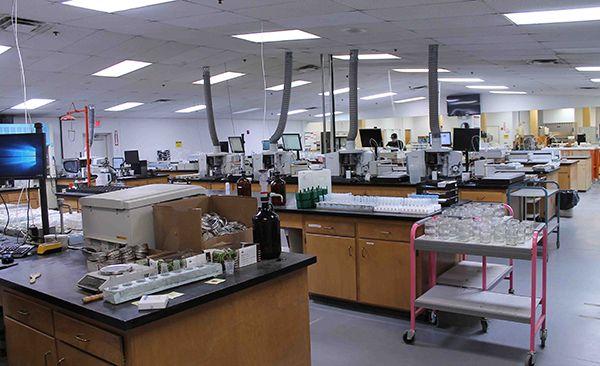 Ward and his wife Jolene founded Ward Laboratories in 1983 after a diverse journey that led them to pursue a lab of their own – a lab where Ward and Jolene literally handled each and every sample.
Prior to college, Ward had grown up near Western, Nebraska, on a farm that is still in the family and where he has hosted thousands of farmers, ranchers and others interested in improving their practices.
The farm location is a proving ground, Ward said reflecting.
"A soil book from 1932 states the average corn yield in Saline County in 1889 was 48 bushels per acre. The corn variety was Reid's Yellow Dent. When I graduated high school in 1955, my dad had me cultivating corn four times. In 1955, we had been farming Saline County land since the 1870s. We pitched manure out of the barn and put it on the land closest to the barn. The average dryland yield in 1955 in Saline County was nine bushels per acre and in 1956 was eight bushels per acre.
"Dad grew sweet clover and rotated alfalfa, so our yield was better than the county average, but they still weren't high enough to pay all the bills," he went on. "So, we made it up by selling cream and eggs in town. That bought the groceries.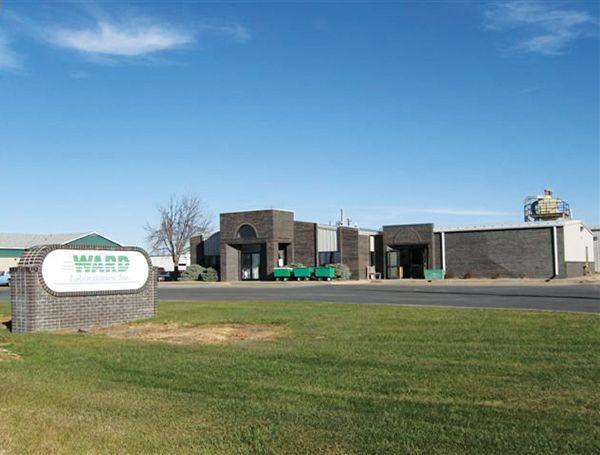 "In 1955, my first course in college was agronomy where I found out nitrogen would make corn grow better," he recalled. "Dr. Dwayne Beck and I were the only two PhDs under the direction of Paul Carson at South Dakota State University (SDSU)."
His educational achievements included bachelor's and master's degrees in soil science from the University of Nebraska-Lincoln in 1959 and 1961, followed by a plant science PhD from SDSU in 1972.
Ward initially headed to work for the Soil Conservation Service (SCS), but plans changed abruptly.
"I got a job with SCS and then had to take a physical. I found out I was color blind. They said, 'We can't hire you.' That was the best thing the government ever did for me," he said.
It was the day before he graduated, so he went to work for a construction company in Geneva paving streets for the summer of 1959.
Ready to move forward with his career path, Ward was encouraged by his advisor, R.A. Olson, to head to graduate school where he worked on zinc phosphorous interactions for his thesis. After achieving his master's in soils, Ward managed the soil testing lab at SDSU. Then, after he attended the North Central Soil Testing Work Group in Chicago and met PhD World War II veteran soil scientists, he decided he wanted to earn a doctorate himself.
From there, Ward was off to Redfield, South Dakota, where Duane Acker hired him to start the James Valley Research and Extension Center, a 200-acre irrigated research farm.
The next step was a call from Dr. Matlock at Oklahoma State University (OSU) who asked Ward if he would serve as an extension soil specialist in Oklahoma. He eventually would be asked by the Medford Oklahoma Coop if he wanted to start a soil testing lab for them because they could not get service out of OSU.
"I told them I would give them a week turnaround. Then I found out after I left OSU that I wasn't supposed to do that because the protocol was the county agent was to make the recommendations," he said. "The county agent would just put them on the desk and leave them. But I was interested in service."
It was this deeply vested interest in service that would continue to drive every move Ward made to serve farmers and ranchers. That drive was about to catch a lot of momentum. Wanting to reach farmers even more directly, Ward worked with OSU to begin a five-week program of soil fertility workshops across Oklahoma.
"We taught farmers how to take soil samples and then we analyzed them and made recommendations," he said.
Ward wanted to keep up the pace he was building and had a deep desire to work for a commercial lab.
"I was disgusted with labs recommending way too much fertilizer," he said.
Then, ServiTech called and they moved to Dodge City in 1977. The company wanted him to help start a lab there, but they first had to borrow money to build it.
"At the time I was pretty naïve, and I finally figured out I was the collateral for getting the lab started," he said.
They started testing soil Sept. 1, and Ward was told he would get 60,000 samples a year. A few came in from the co-ops, but not many. That's when he contacted Harold Henry from Farmland Industries, a large cooperative in Kansas City.
Henry introduced him to agronomy fertilizer salesmen from across the state, and Ward put on meetings, traveling all over Kansas trying to educate people on soil sampling.
"That is how I learned to do the sales work," he said. "We lost $90,000 the first year, then we got better each year and started making money."
The connections were building, and Ward's reputation for honesty and timeliness in his work were gaining attention. That is when Ed Curry of Curry Seed met Ward at Sioux Falls, South Dakota, at an irrigation convention where he was speaking. Curry wanted Ward to put a lab in at Elk Point, South Dakota.
"Jolene and I talked about it driving home from the convention. Then, Mark Kottmeyer contacted me and asked if I had ever thought of starting my own lab," he said, noting that he had his eye on Hastings, Nebraska.
Kottmeyer put him in touch with Jerry Schmidt of Monarch Industries, who said he would build a building. That was in February of 1983, and Jolene and Ward moved to Kearney that same year.
But while their dreams were growing rapidly, the agricultural economy was failing dramatically. The farm crisis hit and stalled the building progress.
"Everything changed in 1983. It was a very tough time. Interest rates were so damn high," he said.
Still, the Wards didn't quit. Instead of a new building, they started Ward Laboratories in a three-bay garage in November 1983. Ward, Jolene, and one employee began the business by testing 2,200 soil samples themselves. They moved to a 3,500 square foot lab in 1984. There, Jolene and Ward had one full-time employee and added one half-time staff member.
"In 1984, we ran 16,000 samples. So, we survived," Ward said.
They would punch data into the computer. It was back when they used the track drive paper. They tore the results off, signed every sheet, stuffed them in envelopes and took them to the mail.
"We tried to achieve a one-day turnaround on everything. It was all about providing service to the people," he said.
Banker Ron Bielenberg came to visit the building in 1988 and recommended building their own lab building. They moved into the original 6,000 square foot building in January 1989 and added another 9,200 square feet in 2000. Today the lab spans 36,000 square feet and employs about 50 people full time."
In 2021, holding true to their dedication of serving each and every customer, Ward Labs tested 447,000 soil, feed, plant, water and manure samples. They have hosted thousands of visitors to throughout the years at the lab and the Ward family farm outside Western, Nebraska, where the story began and continues to this day.
"In 1991, on our farm at Western, we had no corn yield. It grew up tall and got drier than heck. We were conventionally tilling. That is when I got convinced to no-till farm," Ward said. "In 1992, I told my nephew. He said he had to disc it all level before we could start. I thought we were going to save water, and we did with no-till. But then I began to notice the land with the residue had far less erosion. It made me realize the cover crops, rotating crops, and no-till was all impacting the soil health."
All of this frontline experience, touching the soil as a farmer himself, and touching thousands upon thousands of samples was combined with 25 years teaching agronomy at the University of Nebraska-Kearney.
Visibly emotional as he told this story, Ward talked about one of his former students he ran into coming out of a meeting at a no-till conference:
"'I was in your class,' my former student said. 'I went home and talked to dad about my professor teaching us about no-till farming.' His dad asked him, 'What does your professor know about it?' But this student kept telling his dad what he was learning. Finally, he went home, and his dad told him, 'We're going to start no-tilling.' That showed me if you educate people right, it will catch on."
Seventy years later, the soil health movement is catching on. Ward is testament to that effort and shared this message in closing for the farmers and ranchers today and those to come: "The most important thing we can do is keep the soil for future generations. The neat thing is when I drive down the road there are people doing things differently. They are listening and trying things on their own."
Motioning to the picture of his wife and grandchildren on his computer again, Ward said, "Farmers changing know this is what it's all about."