With the spike in diesel prices over the last year, some farmers may be looking for ways to save on miles traveled across their fields. Could taking to the air be the answer?
Aerial drones are coming down in price, and they're able to handle more fieldwork as capabilities advance.
Diesel prices rose to $5.718 per gallon in June, up 74% from June 2021, and fertilizers including liquid nitrogen, diammonium phosphate, and urea have been at an all-time high.
Nate Dorsey, Nebraska Extension educator, who has a drone license says there's lots of interest in using a drone for spraying, especially if it's a targeted treatment for part of a field.
Legal requirements for operating drones, however, could be a challenge for some, he said.
"Since farms are a commercial business, the FAA (Federal Aviation Administration) requires the Part107 certificate for anyone to fly a drone for their business. If you're flying to replace a sprayer to spray a pesticide, you need the same license and medical license as a pilot," Dorsey said.
He plans to offer a drone test-preparation class online through the University of Nebraska website this spring.
Until something changes with the FAA, having a crop agronomist or someone who has an aerial business handle spot treatment is the way to go, he said.
Spot treatment is where farmers can see savings.
Farmers tend to overspray and treat an entire field when pulling a sprayer with a tractor, even if the whole field doesn't need it, Dorsey said.
"There's where drones come in. It's not likely that a farmer would use a drone to spray an entire field, and a drone can hold only 18 gallons, which limits how much you'd cover," he said.
With more targeted treatment, farmers save on pesticide costs. They can also save time that would be spent in a tractor cab, and using drones could eliminate the need for a large sprayer.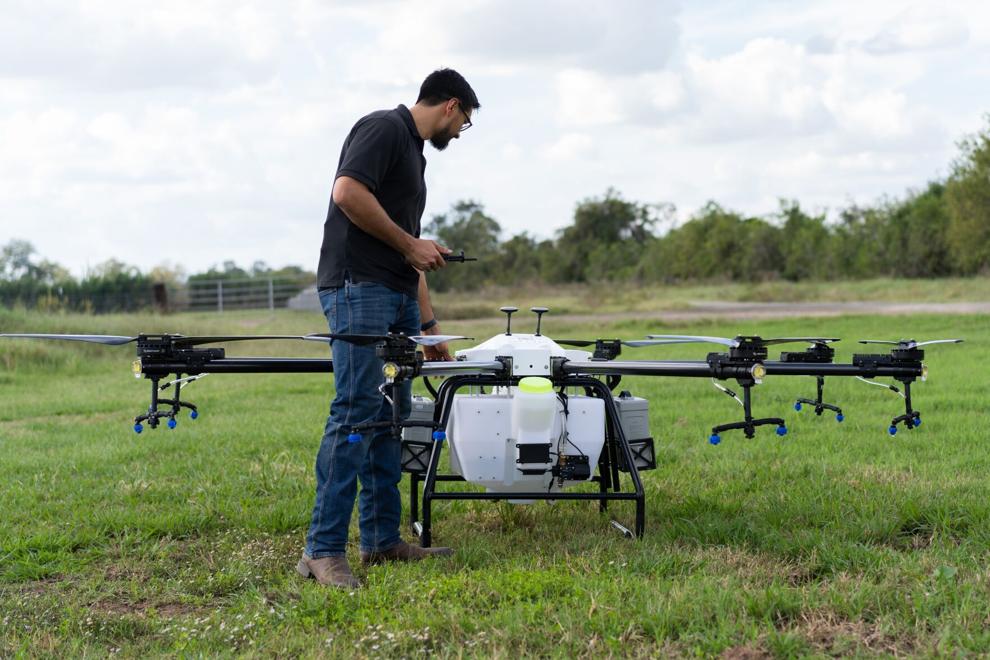 Dorsey recommends farmers try the John Deere Configurator online calculation tool to make equipment cost comparisons.
The cost of operating a tractor has risen in recent years. The University of Illinois provides an estimate of hourly operating costs. The latest estimates from 2021 don't include this year's rise in diesel prices. It shows that hourly operating costs for a 310 horsepower tractor were at an estimated $189.20 per hour in 2021, an increase of 4% over 2019, when costs were $181.10 per hour. For 2021, that total cost included hourly costs of $126.10 overhead, $41.10 for fuel and $22 labor.
Texas-based Hylio manufactures autonomous crop spraying drones that sell for about $30,000. Because one drone can carry about 18 gallons as opposed to thousands that a tractor can pull, the company recommends using a swarm of three or four drones to spray a field.
It depends on the drone model, but for a single AG-130, the approximate per hour cost is $39.10. Factored in are repair parts and maintenance, labor, battery cost and the fuel it would take to run generators to charge drone batteries.
Hylio CEO Arthur Erickson listed benefits of using drones to spray a 70-acre field.
Drones will use less herbicide, he said, because they can spray only the spots that need it. They're also fast.
Using a tractor to cover that 70-acre field would cost $433.44 compared to $117 for a drone, calculating $92 in herbicide costs and $25 in operating costs.
"Generally speaking, our customers will see from 15% up to 90% cost savings, depending on how they utilize the drones," Erickson said.
Spraying a large field requires multiple fill-ups of those 18-gallon tanks. But fill-ups are fast, Erickson said, taking about 60 seconds. Drones spend more than 90% of the time in the air treating crops and usually 10% of the time on the ground in-between flights, he said.
Users develop streamlined systems for swapping and charging batteries and refilling the tanks between flights. They are able to spray hundreds, possibly thousands of acres per day, Erickson said.
With rapidly changing drone technology, Hylio offers upgrades. They're a right-to-upgrade and right-to-repair company. While some companies discontinue models and expect customers to buy new ones, Hylio can update a customer's drone with new hardware.
"You will get five to 10 years out of our drones," Erickson said.
Reporter Amy Hadachek is a two-time Emmy Award winning meteorologist and a storm chaser who earned her NWA and AMS Broadcast Meteorology Seals of Approval. She and her husband live on a diversified farm in Kansas. Reach her at amy.hadachek@midwestmessenger.com.