With the Dexter breed of cattle, you can have your cake and eat it, too.
Or, in bovine terms, you can have your beef and drink the milk, too.
The Dexter is a dual purpose breed, meant not only as a beef breed but a dairy breed, as well.
Originating in the southern part of Ireland, the beginnings of the breed are unknown. They were originally kept by small landowners and known as the "poor man's cow." It is thought they are a cross between Kerry and another breed of cattle, possibly the Devon.
Another theory is that a Mr. Dexter, who was agent to Lord Hawarden, produced the breed by selection from the best of the mountain cattle in the area.
In the early 1900s, Dexters were the show cattle of the English upper middle class. But their numbers declined, and by 1970, they were designated as a rare and endangered breed.
The first recorded importation to the United States was in 1905, and for the next 10 years, more than 200 Dexters were brought to Kentucky, New York, and Minnesota.
Jeff and Melinda Chambers, of Silver Maple Dexters near Adams, Nebraska, have been raising Dexters since 2000.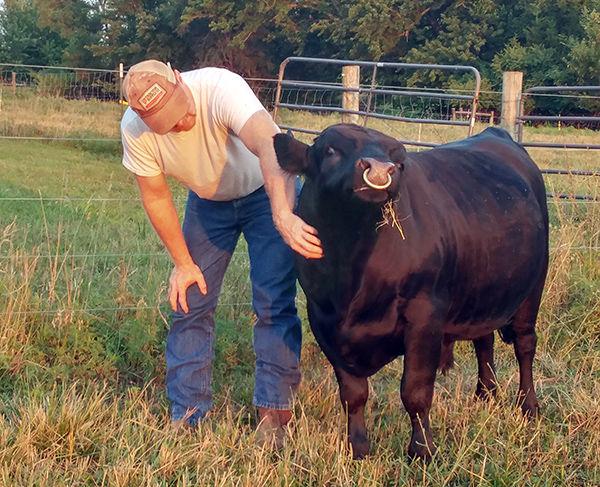 The cattle are smaller than mainstream breeds. They're not miniatures, Chambers pointed out.
"They are not a larger breed that has been bred to be smaller," Jeff Chambers said. "They are naturally this size."
Their frame size is between a zero and one, and typical height for cows is 34-46 inches and bulls is 36-50 inches at the hip. Mature cows weigh between 800 to 1,000 pounds, with mature bulls at 1,000 to 1,200 pounds.
Chambers said there is a niche that Dexters fill in being dual purpose beef and dairy cattle.
"They are practically the last dual purpose breed that is available," Chambers said.
Because of their smaller size, they don't require so much land or so much feed.
"You can fit more per acre than a standard-sized breed," Chambers said.
They are typically about three-quarters of the size of a standard, and their feed intake is about three-quarters, he said.
The animals are suited well for homesteaders, people who live on small acreages and want to grow their own beef and milk their own cow, for nostalgic reasons or because they want to have control over their food source.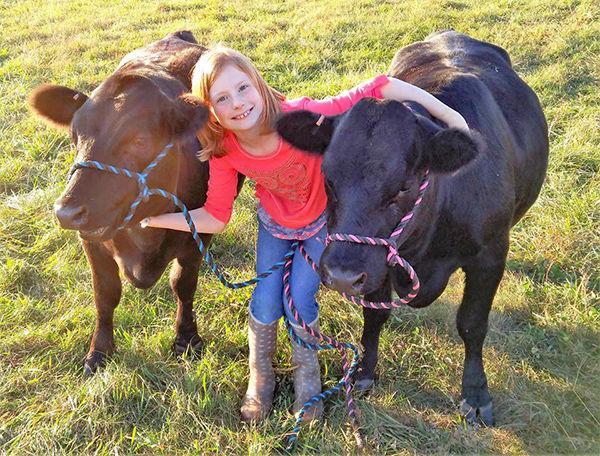 A good Dexter cow, if fed for milk production, Chambers said, will produce four gallons of milk a day. Some Dexter owners will leave the calf on the cow, then the cow only needs to be milked once a day.
A Dexter steer will weigh about 800 pounds at 18-20 months, Chambers said, and can be harvested. The carcass percentage is about 55 to 60 percent, "with some of the best beef around." The meat is "very good," he said, "incredibly tender. Because they are a smaller cut and the animals are smaller, the tenderness is excellent. They finish well and marble well."
Because the animal is smaller, the fibers within the meat are shorter, which also helps with tenderness, he said. And because they're not a strictly beef breed, they don't put on weight as quickly as other pure beef breeds might. Chambers' cattle have had daily gains of 1.3 to 2 pounds a day.
But they're not meant to be strictly beef cattle.
"We don't want to lose the milk production," he said. "If we lose the dairy side, we're just another beef breed that is competing with the likes of the Lowline Angus and we would not win that competition."
The small size of the animal works well for farm to table operations.
"You can sell your customer a whole beef that doesn't overwhelm them," Chambers said. "When a steer weighs 800 pounds, we get about 260-300 pounds of meat back (after being processed)."
The milk is high in butterfat and protein, similar to Jersey milk.
Disposition is another advantage, Chambers said: "They're a very friendly breed. Their temperament is more like a dairy cow, very laid back and personable."
Dexters are sometimes used on commercial first calf heifers for calving ease, he said, with the resulting offspring being three-fourths to seven-eighths the size.
Three colors are accepted for the breed: black, red and brown. Dexters can have a bit of white on them behind the navel, but normally have very little. They are usually a solid color.
Because of their size and friendliness, they are ideal for show cattle. Chambers' daughter, Erin Claire, has shown them for several years. The Nebraska State Fair has had a Dexter class for 14 years, and the National Western Stock Show in Denver just started their Dexter show this year.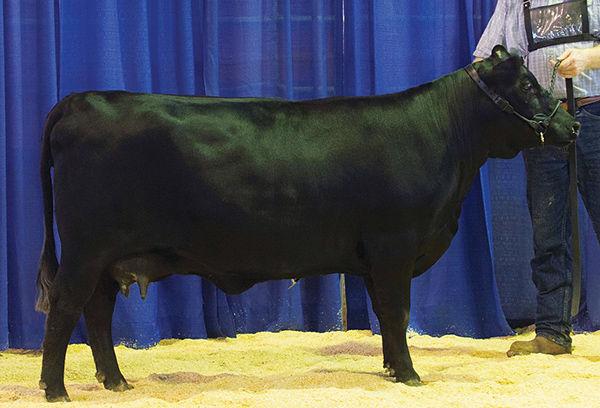 The National Dexter Expo will be held in Lincoln at the Lancaster Event Center June 24-27.
"It's a great opportunity to see them," Chambers said.
Chambers and his wife both grew up on farms and around cattle but do not farm full time. They wanted cattle, "but we didn't want to deal with full size beef animals," he said, "and we wanted something we could milk, but we didn't want a Jersey and that much milk."
They sell breeding stock across the country and into Canada and have exported semen to South Africa and Australia. The cattle aren't their primary source of income, "but it's a great way for us to bring up our kids around cattle and have a high quality of food, and it makes us happy."
Chambers is a director in the American Dexter Cattle Association.
Ruth Nicolaus can be reached at editorial@midwestmessenger.com.