Tracking your herd with satellites in space isn't science fiction anymore.
Out west in the cattle country of Nebraska's Panhandle, Mitch Stephenson is at the helm of the GPS tracking movement using collar bands to monitor grazing behaviors. A University of Nebraska assistant professor and rangeland management specialist, Stephenson said not only has GPS technology grown exponentially, but it's also on the cusp of fiscal effectiveness at the commercial level — and it could mean the difference between life and death for your cattle.
"It's incredible looking at a cow's daily decision-making versus over the course of several months," Stephenson began. "There are specific times when a cow grazes different areas — the top of a hill or bottom of a hill — and now we are asking ourselves, 'how can we learn from that?' Is it timing, such as when we let them out in a pasture, or where we place water or fences?
"A lot of things can come into focus when we get a better understanding over time."
Based at the Panhandle Research and Extension Center in Scottsbluff, Nebraska, Stephenson said he and fellow UNL researchers have been collecting data from GPS trackers on cattle for about five years. The results are showing complex but intriguing patterns of animal behavior.
"We're starting to get a better understanding of how cattle graze the landscape," he added. "We're starting to ask different questions now. We are able to analyze individual behavior and link that with things like heart rate and fitness."
Through their GPS monitoring, UNL researchers have also pinpointed a herd's social dynamic as an influencing factor in its grazing decisions, which is important information to understand when combining herds, he said.
Stephenson said UNL's primary goal in the beginning was discovering ways to improve grazing distribution in any given pasture.
"This research, I think, is neat — using GPS tracking to identify individuals that are farther from water or other preferred locations," Stephenson explained. "We know that cattle are going to be eating some areas more than others. The idea is to find animals that (the producers) can select for that would be more likely to graze a larger area of a pasture."
However, he added, they've found the benefits of data mining a cow's grazing behavior don't end at better rangeland management practices.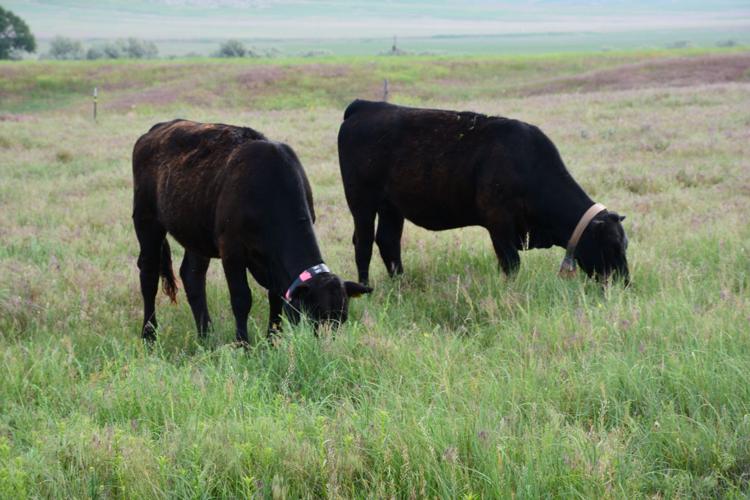 Much like a FitBit, precision ag ear tags have sensors that monitor a cow's biometrics — heart rate, temperature, vertical motion of their heads and sway of their bodies. When a cow is about to calve, the GPS tracker — which would have already learned the cow's unique behavior through programmed algorithms — will recognize a significant change in her grazing habits. With the cow's coordinates readily available, the ability to send an instant alert to the rancher's smartphone could make smart ear tags a rancher's new best friend during calving season.
Another utility of GPS collars that's gaining interest in the research community is virtual fencing. With its potential to deter cattle from preferred grazing and congregating areas, Stephenson said it merits more investigation in the years to come.
Despite new technology bringing the cost of GPS collars down to $100-$300, Stephenson said GPS tracking an entire herd remains cost-prohibitive for a lot of American ranchers. Tracking only a portion of the herd, however, is still a viable option for collecting useful data and monitoring specific animals.
"There is a level of sociability within herds. So a random selection of cattle within a herd may provide a pretty good snapshot of the total herd," Stephenson explained. "It's up to every rancher to decide if it has value. Every ranch operation is going to be a little different in how technology will fit in."
He added that researchers are eager to see how GPS tracking technology — and its utilization in the private sector — advances in the coming months and years, especially as it continues to become more cost effective for commercial users.
"I think there could be a lot of value in using these tools at a herd level," Stephenson concluded. "It takes a lot of animals and data analysis, but it's cutting edge, very neat research."