As the 2020 growing season continues through relatively dry weather with spots of moisture, Renato Schmidt, an animal nutritionist for Lallemand, spoke to producers about the different kinds of adverse conditions silage production can have during the 2020 Silage for Beef Webinar series put on by Iowa Beef and the University of Nebraska.
Schmidt focused on the 2019 growing season to highlight the most difficult aspect of silage production — too much moisture. While there are many different stressors on a crop, Schmidt said the previous two years proved how difficult silage production can get.
"Here in the Midwest, it was so cold and wet we basically didn't even have the first cut," he said.
Typically, Schmidt said producers should be aiming anywhere between 27% and 32% dry matter in silage to maintain a good starch content and digestibility. Due to the unending moisture throughout the Corn Belt a year ago, Schmidt said producers looked at either harvesting too early or too late, which came with their own drawbacks.
In silage harvested too early, producers saw silage with unusually high acid content and not enough starch to maintain a good diet in cattle.
For those who harvested too late, the silage also had low digestibility due to processing issues with dry matter and moisture content. While the starch content in the kernels seemed to be higher, a lot of the starch was undigestable, late-maturity starch.
In either scenario, Schmidt said that producers, in the future, should look at storing silage for at least three months to bump up digestibility of corn. However, he said that when there is a massive deficit of stored silage and a need for it, that's not always plausible.
"If we can just let the silage sit for at least three or four months, we'll have a nice bump on that starch digestibility," he said.
The bigger problem, besides general low-quality silage due to early and late cutting, has been coming from clostridia, Schmidt said. The contamination almost always stems from dirty water the corn sits in — which, last year, was almost everywhere in fields.
"Last year was a real nightmare," he said.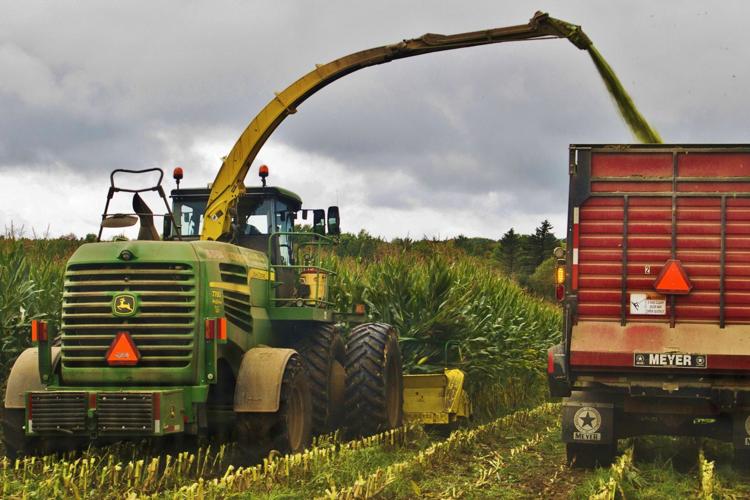 Schmidt said that between clostridia and soil contamination in silage piles, 2019 ended up being one of the worst years they've seen for silage production. Many producers were forced to stop cutting halfway through a day due to weather concerns, which led to a slew of other issues while packing silage.
"You can't just return to it the next day because the cells will be a lot more fragile," he said.
Schmidt detailed a few other stressors during the presentation that producers may run into:
Drought-stressed forage
What producers may see in 2020, Schmidt said that drought-stressed forage almost always will carry a bigger risk for insect pressure, which can decrease the dry matter yield. When the silage is chopped, Schmidt said producers need to watch out for silo gas as it accumulates.
Silage from damaged plants
A very common occurrence throughout the Corn Belt, Schmidt warned producers off of delaying harvest on a crop that is being chopped for silage due to damage from hail or insect pressure.
"Once you have the signs, get to that adequate moisture and get out of the field," he said.
During a study between clean corn silage and rusted corn silage, the data found that in untreated rusted corn, there were 5 parts per million level of toxins while the legal Food and Drug Administration limit is 20 parts per billion.
"This was 250 times higher amount of toxins than allowed," he said.
Silage from frozen or freeze-damaged crops
While cutting a previously frozen crop isn't the most uncommon method in the Midwest, Schmidt warned producers to look out for moisture content, even if the leaves are dry. He said many producers see dry leaves and assume the plant is too dry to cut while the corn remains high in moisture.
He also said that mold levels are a concern, but if a part of the field turns up with mold, segregating that feed from the rest is typically the easiest and best solution.