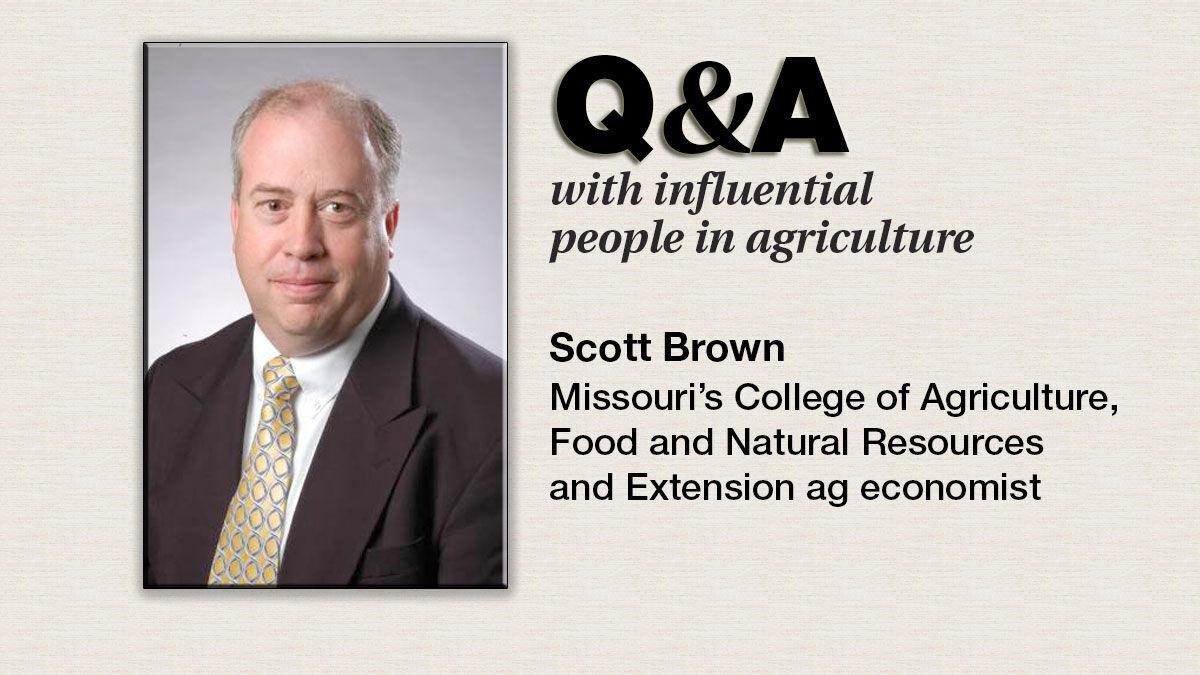 Scott Brown is the director of strategic partnerships for the University of Missouri's College of Agriculture, Food and Natural Resources and is an Extension ag economist.
Brown joined Mizzou in 1989 as a research associate in FAPRI, the Food and Agricultural Policy Research Institute. He is an expert in Missouri agricultural policy, as well as the livestock market outlook and dairy policy. He has testified before Congress on the quantitative effects of changes in federal dairy and livestock policies, and currently works with the Missouri legislature on the economic effects of state policy options on Missouri agriculture. He also provides regular market outlooks on the livestock and dairy industries.
Brown is a graduate of Missouri, with both his master's and doctoral degrees in agricultural economics. He received his bachelor's degree from Northwest Missouri State University.
MFT: Near-term, what do you see hog prices doing over the next few months?
BROWN: I see modest pressure on hog prices for the remainder of 2021 as hog supplies seasonally increase. As we begin to look ahead to 2022, we should recognize that pork supplies are not going to decline for two straight years. 2021 pork production looks to be about 600 million pounds below 2020 production. 2022 production should recover and expand by 500 million pounds relative to 2021. This production recovery may keep some of the price increases we saw in the summer of 2021 from returning in 2022.
MFT: Is the industry still in a price cycle as inventory numbers rise and fall?
BROWN: The hog cycle that we experienced in the 1980s and 1990s is gone. However, that doesn't mean we don't experience a hog cycle today. The supply side of the industry features periods of sow inventory growth like the more traditional cycle. Yet, it is rare to see a significant downturn in hog inventory when unfavorable economics unfold. Given the large capital outlay required for a new facility, it runs at full capacity once it is built. However, the demand side of the equation has modified the price cycle to a larger extent. Gone is the more predictable growth in demand tied to U.S. economic and population growth, and it is replaced with the less steady but higher growth from international markets.    
MFT: What kind of impact do you think COVID has had on hog prices?
BROWN: The initial effects of COVID-19 were adverse on hog prices as packing plants were closed or significantly slowed for some time. That led to a backlog of hogs that overhung markets for most of 2020.
There were bright spots. As consumers made many more meals at home, products like pork loins found stronger demand. That demand strength appears to have some staying power given 2021 loin prices. Recovery in food away from home demand has been positive in 2021 as those pipelines refilled and consumers began eating out again. I think 2021 hog prices received some boost from pigs that were euthanized during the worst of the backup in 2020.
MFT: What do you see as the biggest financial challenges the industry will face over the next decade.
BROWN: The industry will continue to see additional economies of scale that will result in producers who have historically been considered big no longer having large enough scale to be economically competitive. This will keep the industry on a concentration path in the future.
There will be even more coordination needed as the chain looks for additional ways to become more efficient. Market participants that don't keep evolving will face economic challenges. 
MFT: Exports play a huge role in profitability. Do you see more markets opening up?
BROWN: If the U.S. pork industry wants to continue to grow, new international markets must be developed. We have traditionally moved a majority of our pork to countries like Mexico, Japan, South Korea, and China. However, we already see growth in new markets. Back in 2016, in the first seven months of the year, we shipped 738 million pounds of U.S. pork to markets not identified above. Over the same period in 2021, we have sent out [1.26 billion] pounds.
Additional growth in U.S. pork exports will be driven by growth in new countries. The advantage of developing new markets is that it allows us to spread our risk across several countries instead of depending on just a few countries for trade. 
MFT: ASF has been found in the Dominican Republic. How devastating would any FAD be economically for the industry?
BROWN: Any FAD is a scenario we don't want to think about in terms of the short-run impacts it would have. Our ability to export pork grinds to a halt at least in the short run and is the problem. In 2020, we exported nearly 26% of our domestic product. That pork then has to find a home in domestic markets, which would push hog prices significantly lower. Finding a home for 7.3 billion pounds of pork would have been a daunting challenge if 2020 exports had been halted.  
MFT: If a producer contacted you for advice regarding financial and marketing strategies, what would you tell them?
BROWN: They likely are not very interested in hearing it, but the most significant thing they can work on is being the most economically efficient producer possible. They can weather economically challenging times much better if they are a least-cost producer. Marketing strategies are complex when we are in what seems like a constant stream of black swan events.
Given the volatility in hog prices, I often suggest a longer-term horizon of marketing to try and help smooth out the lows while also not missing some of the highs in prices. I would remind them that for many reasons, volatility may be here to stay.