JEFFERSON CITY, Mo. — The Missouri Corn Growers Association held its annual meeting and legislative day on Jan. 23 in Jefferson City, talking about current issues and how to build connections and understanding with state lawmakers.
At the meeting, Missouri Director of Agriculture Chris Chinn, a northeast Missouri farmer, spoke to members about the value of coming to the capital.
"It's very important for you to be in Jefferson City to let your voices be heard," she said.
After the meeting, growers headed over to the state capitol building to meet with legislators and talk about ag issues. Chinn said growers need to share their stories with lawmakers, especially new legislators and those who might not have much direct experience with agriculture. She suggested farmers talk about what crop technologies they use on their farm, whether it's GMO, non-GMO or other technology, and management decisions.
"It's really important to share that story, about what technology has done for your family farm," she said.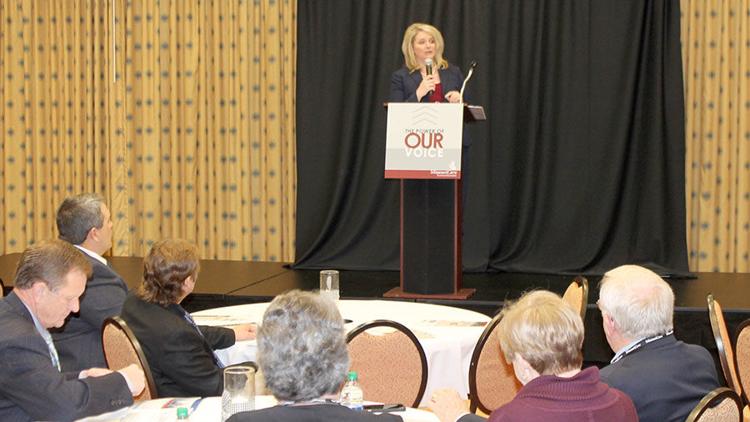 Chinn said legislators value hearing these comments directly from farmers and not just lobbyists.
"I just appreciate you guys taking time to be away from your farms today," she said. "I know that's not easy. You can tell your story better than anyone else in Jefferson City."
Samantha Davis, MCGA's associate director of public policy, spoke with the growers about current issues and the landscape of the state legislature, which saw many new members elected in November.
"We have a lot of freshmen legislators, over 60 of them," she said.
Davis said these legislators are interested to hear from family farmers, and growers can help them understand that most farms are family owned.
"We are 97 percent family owned on Missouri's corn farms," she said.
Another issue for growers to watch and discuss is feeding more cattle in Missouri, Davis said. She said it could add value to Missouri agriculture and support corn production in the state.
MCGA president Mark Scott, who farms near Wentzville in east central Missouri, said the focus during legislative meetings was how to support family farms in Missouri.
"We're talking about the family farm," he said. "Ninety-seven percent of farms in Missouri are family farms, and we want to keep it that way."
Scott said there are a lot of legislators who don't have a direct connection to agriculture, but they enjoy hearing from farmers about ag issues.
"They're very receptive," he said.
Scott farms at the edge of the St. Louis metro area, and he has hosted guests at his farm. He says those in-person meetings, whether on farms or at the state capital, are vital.
"Our success in policy matters is based largely on strong grassroots involvement," he said. "With farmers being such a small minority, it is vital we share our voice and put a face on agriculture."