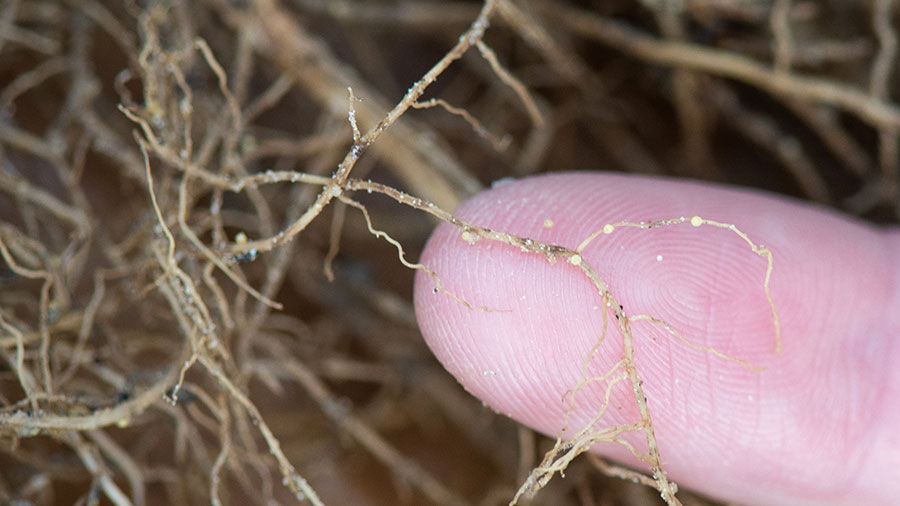 COLUMBIA, Mo. — The University of Missouri hosted its annual crop management conference in Columbia on Dec. 14-15. Experts, farmers and others in the ag industry discussed a variety of crop-related topics.
MU plant sciences professor Melissa Mitchum spoke about soybean cyst nematode (SCN) resistance management.
"This continues to be the most serious pest to soybeans in the U.S.," Mitchum said.
SCN causes more than $1.2 billion in damage annually. The pest started in the upper Delta region, including southeast Missouri, and has spread throughout much of the country.
When it comes to combating SCN, it starts with soybeans' natural capacities, she said.
"What is our No. 1 tool in our toolbox? Natural resistance," Mitchum said. "Natural resistance is probably always going to be our No. 1 tool when it comes to combating soybean cyst nematode. … We want to preserve natural resistance at all costs, and we've done a poor job of that."
Mitchum said this is because the market for SCN-resistant soybeans is dominated by a single resistance trait, which is breaking down as the nematodes gradually adapt to it.
"Hopefully we can find other natural sources of resistance and diversify that genetic pool for growers," she said.
Natural soybean resistance prevents the formation of a feeding cell. Without that feeding cell, the nematode dies.
Part of the challenge is growers often don't know what they're dealing with. Mitchum said an MU survey of 393 fields showed 88 positive samples for SCN, but only 24 percent of farmers surveyed knew they had SCN. Also, the percent of fields with "medium to high" egg counts increased from 62 percent in a 2005 survey to 75 percent in 2017.
"We're not reducing the egg counts in soils," she said. "If anything, they're growing."
At least 86 percent of Missouri farmers plant SCN-resistant soybeans, but only 31 percent know their source of resistance, Mitchum said.
"I think that'll be more important in the future as more sources of resistance come to the market," she said.
The PI 88788 source dominates the market, and reliance on a single source of resistance "is reducing its effectiveness," Mitchum said.
"We're increasing the availability of SCN-resistant varieties, but almost all are relying on a single source of resistance," she said.
Surveys show 83 percent of farmers rotate soybeans with a non-host crop, such as corn, wheat, rice, milo or sorghum. The idea is to eliminate the food source. The eggs hatch, have nothing to eat, and die.
But Mitchum said some of the eggs are not hatching. They can stay dormant for at least 10 years, and probably much longer, waiting for a food source.
"So you're not eradicating the population, you're just reducing it," she said.
With use of resistant varieties of soybeans, the nematodes in the population that have the genes to survive are the ones that reproduce.
"You're selecting for those that can overcome, those who can reproduce on resistant soybeans," Mitchum said.
Farmers should also know their SCN female index, or FI, which determines how aggressively the pest population can reproduce. The more aggressive the population, the bigger the yield loss.
Overall, farmers have been doing what they can to combat SCN, Mitchum said.
"Farmers are doing the right thing," she said. "They're using resistant varieties, they're rotating crops."
To help solve the problem, MU and Missouri Soybean Association researchers have been working to develop new "stacks" of resistance sources, which can then come to market and give growers more options and variety. This will help farmers develop a resistance management plan.
"Farmers need to be able to rotate with other resistances and find a combination that works best for them," Mitchum said.
Missouri is part of the North Central Soybean Research Project, working to develop more options for growers.
"The key word is long-term, strategic management," she said.
Mitchum said they are "close" to developing that plan and getting more sources of resistance available. For now, farmers can do a few things to combat SCN.Farmers should scout and sample fields and get an egg count. If SCN egg counts get high, farmers can get an HG test to determine the female index of the population. They should know their seeds' source of resistance.
Lastly, they should know their options. There are some seed treatment options, and farmers can even rotate different varieties of SCN-resistant soybeans. Mitchum says even if they all use the PI 88788 resistance, there are still some differences among the resistant varieties, which could help control SCN populations.