Crop conditions are generally good in most fields in Missouri, although farmers around the state are hoping for timely summer rains to reach their yield potential. A relatively small area of the state, in western and southern Missouri, has officially moved into drought conditions.
July brought hotter weather, raising the stakes for whether or not rains chances hit. In northeast Missouri, Marion County farmer Will Bier says overall crops were looking good.
"The corn needs a drink but looks good," he says. "The beans are in the same boat. If we catch a rain this week, things will be looking real good."
Bier knows a well-timed rain is crucial for the crops at this time of year.
"It would be a grain maker," he says.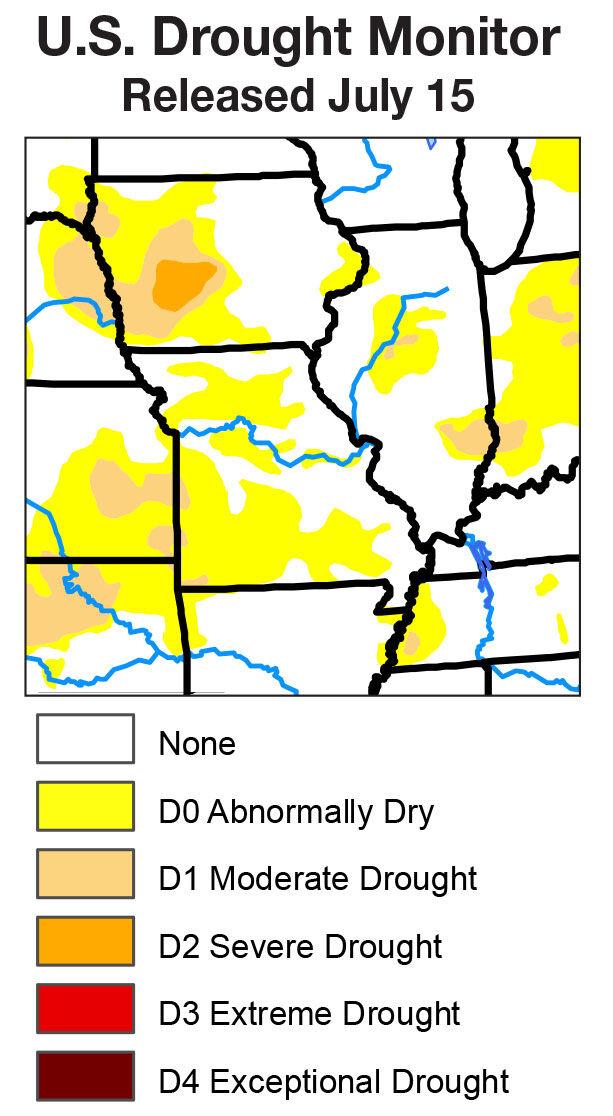 Todd Lorenz, a University of Missouri agronomist based in Cooper County, in central Missouri, says the crop progression has some variety, and drought conditions could be creeping closer.
"Earlier planted corn is 100% tasseled," he says. "The second wave of planted corn is generally at 50%. Wheat has been harvested and some double crop soybeans planted. Soybeans look good as well. The forecast shows extended heat periods for this area, and therefore water stress will start becoming an issue for all crops, including pastures and hay ground. I know the southwest is experiencing drought conditions already."
On the positive side, Lorenz says Japanese beetle populations seem to be declining, even as they remain a problem in other parts of the state.
"Interestingly enough, this is the second year that Japanese beetles have had diminished numbers in my area," he says. "I know other parts of the state are still experiencing high numbers."
Jim Crawford, an MU Extension ag engineering specialist based in Atchison County, in northwest Missouri, says the weather provided some challenges in the spring but overall crops are looking good, even if there is a long way to go.
"Crops look really good up here considering the spring," he says. "For the most part we are receiving timely rains and both the corn and soybeans look amazing. Still too early to guess the outcome but so far, so good."
As July heated up, the western edge of Missouri, from near St. Joseph all the way down to the Arkansas line, was seeing either abnormally dry or drought conditions. According to the U.S. Drought Monitor map released July 9, 11.04% of Missouri was abnormally dry or in drought, with 1.58% of the state formally in level one, moderate drought.
Joe Meadows farms in Barton and Vernon counties, in southwest Missouri. He has been hoping for pop-up rains to keep the corn crop going.
"We have been hot, but thanks to several rounds of pop-up storms we are hanging on," he says. "…We are hopeful we will continue seeing isolated storms or the yield potential of the corn will continue to erode."
According to the USDA Missouri Crop Progress and Condition report released July 20, Missouri's corn crop was rated 17% excellent, 55% good, 22% fair, 5% poor and 1% very poor. The state's soybean crop was rated 13% excellent, 52% good, 29% fair, 5% poor and 1% very poor.
Missouri's corn crop was right on the five-year average, with corn silking at 80% in the crop progress report. That compares to 57% on July 19 in 2019.
According to the July 20 report, Missouri's soybean crop was 52% blooming, up from 22% a year ago, and 20% were setting pods, compared to 1% at July 20 of last year.