The latest Census of Agriculture shows high-speed internet access remains spotty in many rural parts of Missouri. State agencies, are working to improve access.
Missouri Director of Agriculture Chris Chinn, whose family farming operation is located in rural northeast Missouri, says fast and reliable web access is a high priority.
"That is a huge, important thing for us at the Department of Agriculture," she says. The state has a goal for progress — 90% connectivity by 2025.
As farming becomes more and more technologically advanced, Chinn says reliable, high-speed internet access becomes more and more important.
"It's really important for our farmers," she says. "Precision agriculture is becoming more the norm than it was five years ago."
Chinn says it's also important for people and businesses making online bids and accessing health care through telemedicine. It's key for education, online classes or accessing information needed for course work.
"This issue has gained a lot of traction in recent years," she says.
Several ag groups have indicated rural high-speed internet connectivity is a high priority.
According to the latest Census of Agriculture, which was released in April of this year and includes information from 2017, only 73% of Missouri farms have access to some form of internet. Also, Missouri farms rely predominantly on mobile, DSL and satellite connections to access the web.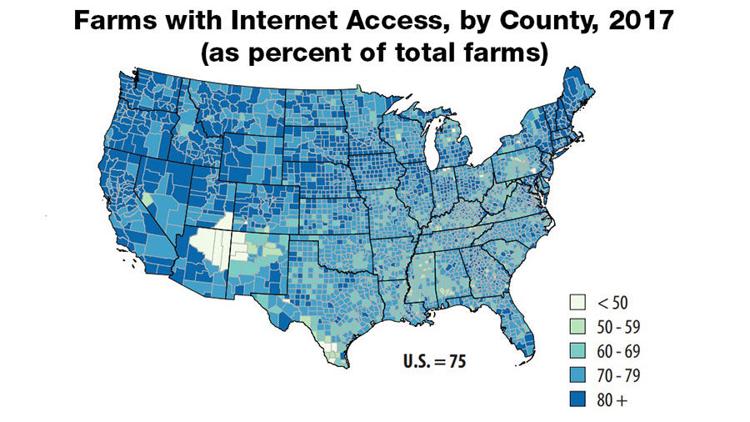 "I was surprised to see those numbers," said Mark Schleusener, Illinois state statistician with the National Agricultural Statistics Service.
He speculates that one factor may be the aging of farmers. The ag census lists the average age of farmers and ranchers at 57.5.
"And for a fair number of people, (internet service) was not part of their farm operation, and they don't need it," Schleusener said.
The Department of Agriculture's "Do More" initiative includes goals to improve rural broadband Internet access.
"One of our pillars is 'Connect More,'" Chinn says. "We've done a lot to try to move broadband forward."
The state has an Office of Rural Broadband, and during this year's legislative session lawmakers approved $5 million in grant funding for the office. Chinn says there will be a comment period about the grant process next month, and people and entities will be able to apply for funds to help expand broadband Internet access.
Chinn says there is also an ongoing project to create updated and accurate maps of where high-speed internet access is available. She says the FCC maps are not accurate.
The rural broadband effort also involves the federal level of government. FCC Chairman Ajit Pai visited Missouri in 2017 to talk about increasing rural high-speed Internet access, and last summer the FCC selected more than 100 companies across the nation to receive a combined $1.5 billion to improve broadband access in underserved and rural communities. Of that money, $254.8 million, or about 17% of the total allocation, is being sent to Missouri companies to expand and improve access.
In Illinois, Director of Agriculture John Sullivan, who is leading the state's latest push to improve rural internet service, doesn't have to go far to find an example of the need. It's right on his farm.
It is a complex issue. Options include laying of fiber optic cable, fixed wireless or other infrastructure. And part of the solution will necessarily involve avoiding duplication of work. The federal government, private enterprise and non-profit organizations are also working on improving broadband coverage.
"The next thing we have to decide is where we concentrate our efforts," Sullivan said. "Do we look at the unserved areas, or do we look at the under-served areas? Are we going to concentrate on getting the speeds up to a specific level?"
Chinn says she hopes Missouri continues to invest in improving the situation in the state, including the Office of Rural Broadband funding.
"I hope that that number continues to stay in the budget," she says.
Additional reporting by Nat Williams.